Works of Hegel (13 vols.)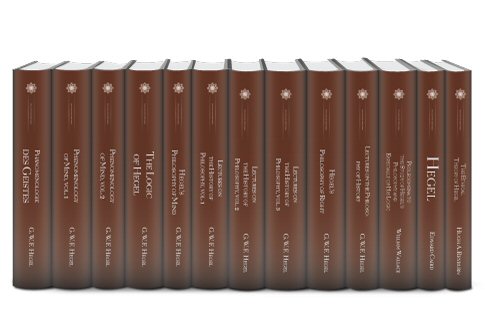 Overview
Hegel's impact on western philosophy can be seen as much in those who disagree with him as in those who agree. Karl Marx, an enthusiastic student of Hegel's works, developed his economic theory based on Hegel's dialectic understanding of reality. Kierkegaard's existentialism owes as much to Hegel as it does to Kierkegaard's rejection of him. Feuerbach, too, had strong affinities and objections to Hegel's ideas. Whether you agree or disagree with Hegel, he is a force to be reckoned with, and his works are a necessity in any philosophical library.
Select Works of Hegel contains all of Hegel's major philosophical works and a number of important lectures. The texts are completely indexed and tagged, allowing you to get near-instant search results and quickly cross-reference books. References to other works link to those texts in your library, allowing you to see a reference in context with a click. You can look up difficult words with the dictionary lookup tool.
Key Features
In-depth indexes
All of Hegel's major philosophical works
Introductions and explanatory notes by the translators
Product Details
About G. W. F. Hegel
Georg Wilhelm Friedrich Hegel (1770–1831) was born in Stuttgart, Germany. He received his early education at the Gymnasium Illustre in Stuttgart. He entered the seminary at the University of Tubingen in 1788, graduating with a degree in theology. After graduating, Hegel tutored the children of an aristocratic family in Berlin. He left Berlin to lecture on logic and metaphysics at the university in Jena, becoming an Extraordinary Professor in 1805. Displaced by Napoleon's campaign through Prussia, Hegel took the position of editor at a newspaper in Bamberg. In 1808, Hegel left Bamberg to become headmaster of a gymnasium in Nuremberg. In 1811, he married Marie Helena Susanna von Tucher, with whom he had two sons. Hegel briefly accepted a post at the University of Heidelberg before accepting the chair of philosophy at the University of Berlin, where he remained until his death.
More details about these resources
Show More