Totally Catholic!: A Catechism for Kids and Their Parents and Teachers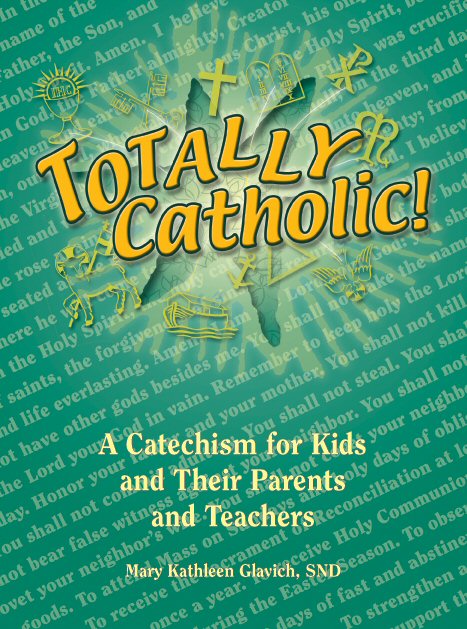 Totally Catholic!: A Catechism for Kids and Their Parents and Teachers
•
Runs on Windows, Mac and mobile.
Your Custom Discount
Reg. Price $12.95
Pre-order Price $10.95
Your Price $10.95
You Save $2.00 15%
Your Price
What's Pre-Pub?
$10.95
Reg.: $12.95
Print: $14.95
Overview
Are you looking for a way to accessibly communicate the faith to your kids, but are at a loss for words? Is your older child preparing for receiving the sacraments, but needs to catch-up on their religious education? Do you want to brush up on your knowledge and grow in your faith, especially in celebration of the Year of Faith?
In this comprehensive resource for faith formation, children ages 9–12 and the grown-ups in their lives are provided with child-appropriate, helpful, and theologically correct language to explain the faith. Whether you are a parent, grandparent, teacher, or catechist, this guidebook of all things totally Catholic offers you an exciting way to share and pass on the faith.
Drawing from the Catechism of the Catholic Church and using "hip" terms and acronyms such as "BTW" and "VIP," content is presented in a way that reaches out to young people—and even to adults looking for an accessible window into the faith. Analogies illuminate difficult concepts, bolded key terms are defined, and a pronunciation aid accompanies more advanced language. Illustrations and call-out boxes present the faith in a fun way.
From Bible stories, to the sacraments, to Church hierarchy, to the fruits of the Holy Spirit, this resource covers all bases. It also responds to contemporary societal issues such as abortion, euthanasia, and homosexuality, along with issues that kids might directly deal with in their day-to-day lives such as cheating, plagiarism, and gossip.
Containing extensive information on what Catholics believe and how they live as members within the community of believers, this manual not only equips you with knowledge of the faith, but also encourages you to engage in it. Each chapter is framed in the form of a question and contains the following sections:
Brainstorm: prompts to connect the faith to everyday life
Scripture Link: a story from Scripture that reinforces the faith
BTW: supplemental tidbits of information
Did You Know?: interesting, quick facts
A Catholic VIP: portraits of saints or blesseds, containing brief biographies and feast days
From My Heart: an assortment of prayers
Now Act!: ideas for how to live the faith
Recap: a summary of important points to remember
Read this on your iPad or Android tablet, and then pull up the Catechism to read side-by-side. When Bible verse references and references to Church documents appear on popup, you know that Logos is the coolest way to learn about the Catholic faith!
Key Features
Written by an award-winning writer highly experienced in the catechetical field
Adheres to the structure of the Catechism of the Catholic Church with numerical references
Includes an appendix of principles that guide how Catholics live and pray
Contains a Note to Parents, Guardians, and Teachers and a Note to the Child Reader
Provides an index of key terms
Contents
What Is Faith?
What Is God Like?
What Has God Revealed?
How Is the Bible God's Letter to Us?
What Is the Trinity?
Why Did God Create?
Why Aren't We in Paradise?
Who Is Jesus?
How Did God Become Man?
What Was Jesus' Life Like?
How Did Jesus Teach?
How Were Jesus' Miracles Signs of the Kingdom?
Why Did Jesus Die?
What Does Jesus' Resurrection Mean?
Who Is the Holy Spirit?
What Is the Church?
What Is the Communion of Saints?
Why Is Mary Special?
What Will Happen at the End of the World?
Why Is Liturgy Important?
What Is Baptism?
Why Be Confirmed?
Why Is the Eucharist Wonderful?
What Is the Sacrament of Penance?
What Does the Anointing of the Sick Do?
What Is Holy Orders?
What Is Matrimony?
How Can We Make Good Choices?
Why Did God Give Us Laws?
How Do We Love God above All?
Why Do We Treat God's Name with Respect?
How Do We Keep the Lord's Day Holy?
Who Deserves Our Respect and Obedience?
Why Do We Respect Life?
Why Did God Make Us Male and Female?
What Is Involved in Honesty?
Why Is Truth Important?
What Is Prayer?
What Does the Our Father Really Mean?
Praise for the Print Edition
This text is totally appealing! It is a hands-on approach to the material in the Catechism, an enlivening and Spirit-filled journey of discovery. The beautiful truths of the Catholic faith are presented in an enticing, and interactive style which will be a valuable tool for all.
—Lisette Michaud, director of religious education, St. Joseph Parish, Medway, Massachusetts
[Totally Catholic!] mirrors and translates accurately the structure of the Catechism of the Catholic Church, with its focus on the four pillars of faith . . . Creative and interesting features sprinkled in . . . make the reading of this text more conversational and interactive in style.
—Paul Ritt, pastor, St. John the Evangelist Parish, North Chelmsford, Massachusetts
In Totally Catholic! Sr. Mary Kathleen Glavich covers the tenets of the faith with an engaging writing style. Introducing each topic with a phrase from the Catechism and an overview, she then breaks it open. 'BTW' and 'Did You Know' broaden the readers' understanding and 'Brainstorm' challenges them to make connections. With 'Catholic VIPs' and 'Now Act!' Sr. Mary Kathleen puts flesh on the doctrine. In 'From My Heart' she offers the reader ways to pray the doctrine. Totally Catholic! touches the mind, heart, and will.
—Michele Idiart Walsh, NCEA Catechetical Scholar and 2012 NCEA/NPCD Award Winner for Excellence in Catechesis
Product Details
Title: Totally Catholic!: A Catechism for Kids and Their Parents and Teachers
Author: Mary Kathleen Glavich
Publisher: Pauline Books & Media
Publication Date: 2013
Pages: 246
About Mary Kathleen Glavich
Mary Kathleen Glavich, a Sister of Notre Dame, taught for 13 years before becoming general editor for the Christ Our Life religion series, a position she held for 15 years. She has had more than 50 books published, including two Catholic Press Association award-winners. Most recently, Sister Kathleen has served as a member of the parish staff at St. Dominic Parish in her native Cleveland, Ohio.
Sample Pages from the Print Edition