Encyclicals of Pope Pius XI in English & Latin (2 vols.)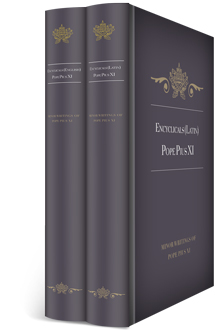 Encyclicals of Pope Pius XI in English & Latin (2 vols.)
•
Runs on Windows, Mac and mobile.
Your Custom Discount
Reg. Price $34.95
Pre-order Price $24.95
Your Price $24.95
You Save $10.00 28%
Your Price
What's Pre-Pub?
$24.95
Overview
Pope Pius XI had an incredible impact on the Roman Catholic Church we know today. Under his rule (1922–1939), the Vatican was reestablished as its own sovereign state, the Catholic Church took a stand on social and economic issues as moral and ethical concerns, and Pius XI defended the Catholic's rights to life and education in Mexico, Spain, Germany, and the Soviet Union. These encyclicals proclaim his ideals for freedom, liberty, and theology.
The encyclical Quadragesimo Anno discusses the ethical implications of social and economic systems at large. In this encyclical, Pope Pius XI describes the risk of unrestrained capitalism and totalitarian communism on human dignity and the freedom of the people. This encyclical deals with the nature of private property, capital, labor, and the various "isms" of the world: communism, socialism, capitalism, corporatism, fascism. In other encyclicals, he protests the government-sponsored mistreatment and murder of Catholics in the Soviet Union and Mexico. Mit Brennender Sorge, accredited to Eugenio Pacelli and Michael von Faulhaber, was secretly promulgated to Catholic churches throughout Germany to inform Catholic Germans of the dangers behind Nazi ideals.
Discover the socio-ethical writings of Pope Pius XI in Logos Bible Software. These texts are fully searchable, allowing you to instantly find topics related to your area of study or the topic of your sermon. Scripture and references to other popes and ancient writings appear on mouseover, and Pius XI's writings will appear in the citations of those who mention him.
Key Features
Important writings for turn-of-the-century social justice and economic issues
The first official anti-Nazi writing of any major organization active within Germany, Mit Brennender Sorge, in German and English
Contents
Acerba Animi
Ad Catholici Sacerdotii
Ad Salutem Humani (Latin only)
Caritate Christi Compulsi
Casti Connubii
Dilectissima Nobis
Divini Redemptoris
Ecclesiam Dei (Latin only)
Firmissimam Constantiam (Nos Es Muy Conocida)
Ingravescentibus Malis
Iniquis Afflictisque
Lux Veritatis (Latin only)
Maximam Gravissimamque
Mens Nostra
Miserentissimus Redemptor
Mit Brennender Sorge
Mortalium Animos
Non Abbiamo Bisogno
Nova Impendet
Quadragesimo Anno
Quas Primas
Quinquagesimo Ante Anno (Latin only)
Rappresentanti in Terra (Divini Illius Magistri)
Rerum Ecclesiae
Rerum Omnium Perturbationem
Rerum Orientalium (Latin only)
Rite Expiatis
Studiorum Ducem (Latin only)
Ubi Arcano Dei Consilio
Vigilanti Cura
Product Details
Title: Encyclicals of Pope Pius XI
Author: Pope Pius XI
Publisher: Libreria Editrice Vaticana
Publication Date: 1937
About Pope Pius XI
Pius XI (Ambrogio Damiano Achille Ratti) (1857–1939) was pope from 1922 to 1939. He ended the longstanding hostility between the Italian government and the sovereignty of the Church in Rome when, in 1929, the Vatican was established as an independent, sovereign state. Ratti worked to create social peace and human freedom in the world in the face of rising communism and fascism around him.
Born in Milan in 1857, he was ordained in 1879 and spend much of his career as an academic within the Catholic Church. He obtained three doctorates (in philosophy, canon law, and theology) from the Gregorian University in Rome. His specialty was paleography and he spent much of his time pouring over ancient and medieval Church manuscripts. He was a professor at the seminary in Padua and, later, worked at the Ambrosian Library in Milan.
His career drastically changed in 1918 when Pope Benedict XV asked him to be his papal representative to the newly-established state of Poland. After just a year, he rose to the position of titular archbishop for Warsaw, and worked to bring peaceful coexistence between Poland and the Soviet Union. Just two years after that, Pope Benedict XV appointed him Archbishop of Milan and consecrated him as a Cardinal.
Less than a year later, Pope Benedict XV died suddenly of pneumonia, and, after 14 ballots, Ratti was elected to the papacy. During his papacy, he reestablished the Vatican as a sovereign state, suffered the persecution of Catholic clergy in Mexico, the Soviet Union, and Germany, and established the Catholic Church as a major world voice through its political and social teachings and diplomatic relations.
Pope Pius XI passed away on February 10th, 1939, after months of deteriorating health.
Sample Pages