SPCK Gospel Studies Collection (3 vols.)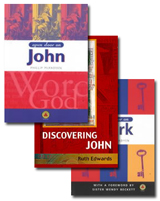 Individual Titles
Discovering John
Author: Ruth Edwards
Publisher: Triangle
Publication Date: 2003
Pages: 208
The Gospel of John has been the subject of intense scrutiny for centuries. It has profoundly shaped Christian doctrine and inspired artists, musicians, theologians and ordinary Christians. Despite the Gospel's ability to communicate the good news to the simple believer while concurrently plumbing the depths of Christian faith for the sophisticated, it has been sharply criticized as "world-denying," "andocentric" and "anti-Jewish.".
What should we make of a Gospel that provokes such diverse reactions? Does John still have meaning for the Church and contemporary society? Does it need to be reinterpreted for today's world? Is it anti-Semitic?
In this masterly study, Ruth Edwards seeks to help those interested in this provocative Gospel decide for themselves the answers to these and other questions.
Ruth Edwards has written a lucid and concise introduction to the Gospel of John. Her book manages to condense a generation of scholarship into a highly readable account which will be a great boon to all students of this profound if enigmatic book.
—Christopher Rowland, Professor of the Exegesis of Holy Scripture, University of Oxford
This sensible yet sensitively written, thoroughly well-read study provides a cautious assessment of the state of play of Johannine scholarship, in a way that is helpful for all who teach and study John today… It is comprehensive in scope, including both historical and literary approaches; it digs around behind the text, but also faces the way in which it is applied to today… It will be of great benefit, not just to students, but also to churches and individual Christians, for which we owe her thanks.
—Church Times, Richard Burridge
Ruth Edwards is a Scottish Episcopalian priest who has taught at the Universities of Aberdeen and Oxford. An expert in the book of John, she has participated in the John Seminar at the yearly British New Testament Conference.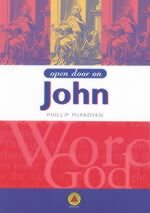 Open Door on John
Author: Phillip McFadyen
Publisher: Triangle
Publication Date: 1998
Pages: 144
Writing particularly for the searching layperson who wants to explore what the good news is all about, Open Door on John is an easy-to-use and imaginative introduction to study on the gospel of John. Mysterious, enchanting, glorious: John's Gospel is perhaps the most popular… and perhaps the least understood. The author invites the reader to "come and see"; to push open the door to life in all its fullness, and catch a glimpse of heaven beyond.
Included is the full text of John's gospel, broken down into short chapters, together with succinct commentaries on each chapter. The book contains questions for reflection, and notes on how to use it alone or in group study. There are a number of short "interviews" from characters in the gospel – John the Baptist, Nathaniel, Andrew, Nicodemus and the woman from Samaria whom Jesus met at the well.
Open Door on John is an ideal book for those who want an invigorating and entertaining Bible study guide.
Phillip McFadyen is an artist, author, watercolor tutor and Priest in Charge of St George's Colegate in Norwich.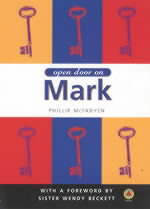 Open Door on Mark
Author: Phillip McFadyen
Publisher: Triangle
Publication Date: 1997
Pages: 142
Here is a simple yet searching guide to the Gospel that does justice to the excitement of Mark's message. Open Door on Mark is a clear and accessible introduction to Mark's Gospel, nudging the door open for those with questions to ask. It conveys the key messages of Jesus' ministry and their relevance today. It breaks the gospel down into manageable sections. Each chapter begins with the text, a short discussion, and questions for reflection or study. A foreword by Sister Wendy Beckett is also included.
Racy, breathless, direct: Mark's Gospel is written with an urgency that sweeps the reader along. What Jesus looked like, how he was born – there's no time to linger over details like these. Jesus proclaims who he is by breaking down barriers, braving opposition and achieving glory through death.
Open Door on Mark is written for anyone intrigued by Jesus and what he might stand for – unlocking the Gospel for all to explore what Mark has to say.
Phillip McFadyen is an artist, author, watercolor tutor and Priest in Charge of St George's Colegate in Norwich.
More details about these resources