The Speeches, Messages, and Apostolic Journeys of Pope John Paul II (13 vols.)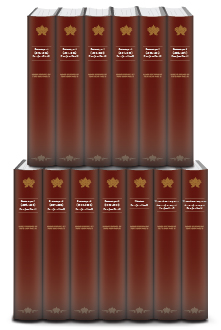 The Speeches, Messages, and Apostolic Journeys of Pope John Paul II (13 vols.)
•
Runs on Windows, Mac and mobile.
Your Custom Discount
Reg. Price $299.95
Pre-order Price $249.95
Your Price $249.95
You Save $50.00 16%
Your Price
What's Pre-Pub?
$249.95
Overview
The Speeches, Messages, and Apostolic Journeys of Pope John Paul II collection (13 vols.) contains tens of thousands of pages of Pope John Paul II's speeches and messages given worldwide. Everything from television and radio broadcasts to speeches the Holy Father has given to universities, nations, and world organizations is included in a chonological format in these volumes.
These massive volumes include nearly 27 years of Pope John Paul II's public addresses, forming one enormous collection of important and timeless sayings of one of the biggest world influences of the twentieth century. It contains his meetings with Mother Teresa and the Missionaries of Charity, the speeches he gave at the funerary monument of Mahatma Gandhi, the speeches during his visits to South Africa, the United States, Poland, and over 50 other nations. Included are his Jubilee Pilgrimages, speeches to the United Nations and its organizations, messages for World Youth Day and similar World Day events, and much, much more.
Search for anything Pope John Paul II had to say on the topic of your research—such as "Vatican II" or "theology of the body." Find profound sermon illustrations or quotes relevant to your topic from this powerful and influential public Christian figure.
Interested in having Pope John Paul II's homilies, audiences, and messages in Spanish? Click here for a Spanish collection of his writings.
Key Features
Over 26 years' of Pope John Paul II's speeches
Radio and television messages for specific nations and groups
Writings and speeches from his pastoral visits throughout the world
Contents
Speeches, vol. 1
Speeches, vol. 2
Speeches, vol. 3
Speeches, vol. 4
Speeches, vol. 5
Speeches, vol. 6
Speeches, vol. 7
Speeches, vol. 8
Speeches, vol. 9
Speeches, vol. 10
Messages
Writings Associated with the Apostolic Journeys, vol. 1
Writings Associated with the Apostolic Journeys, vol. 2
Product Details
Title: Speeches, Messages, and the Apostolic Journeys of Pope John Paul II
Author: Pope John Paul II
Publisher: Libreria Editrice Vaticana
Volumes: 13
About the Author
John Paul II (Karol Józef Wojtyla) (1920–2005) served as Pope for 26 years (1978–2005). In 1942, he felt called to the priesthood and began courses in the clandestine seminary of Krakow. Wojtyla was ordained to the priesthood on November 1, 1946, and shortly after, was sent to Rome where he worked under Garrigou-Lagrange. In 1958 he was appointed as the titular bishop of Ombi and auxiliary of Krakow and in 1964 was appointed as the archbishop or Krakow. Three years later, he was elevated to cardinal.
In 1978, Karol Wojtyla was elected pope, where he took on the name John Paul II. As pope, he was instrumental in ending communism in his native Poland. He significantly improved the Catholic Church's relationship with Judaism, Islam, the Eastern Orthodox Church, and the Anglican Communion. He has been acclaimed as one of the most influential leaders of the twentieth century.
Sample Pages