Christian Educator's Collection (3 vols.)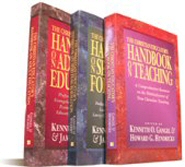 Overview
The renowned Christian Educator's Handbook series has long been a popular source for practical and reliable information on teaching from a Biblical foundation. Now, with the Christian Educator's Collection, this series is available in the Logos Bible Software library!
Each book in this collection offers the Christian educator sound insight on a wide breadth of topics. These range from the best way to integrate a Christian worldview in the classroom, to the state of adult education today. The series tackles each issue from a variety of angles with contributing chapters by well-known evangelical authors.
Key Features
The Christian Educator's Handbook on Teaching
The Christian Educator's Handbook on Spiritual Formation
The Christian Educator's Handbook on Adult Education
Praise for the Print Edition
As a start or an addition to your library, few books would make a better choice than The Christian Educator's Handbook series offered by Baker Books. Noted Christian education authorities such as Kenneth Gangel, James Wilhoit, Howard Hendricks, and Robert Choun have edited or written these books. Their scope ranges from adult to children's education and covers spiritual formation, teaching, and family life ministries.
—Christian Education Counselor
The Christian Educator's Handbook on Teaching
Written by Christian education specialists, The Christian Educator's Handbook on Teaching is a complete resource on Christian teaching for use in the home, church, and school!
A variety of principles and practices are outlined, including valuable insights for both the beginning teacher and the veteran. Handbook on Teaching includes sections on teaching children, teaching adults, designing biblical instruction, choosing and using creative minds, and much more. Charts and illustrations are also found throughout the text. Teaching with a Scriptural foundation has never been easier!
In Handbook on Teaching you will find a gold mine of information on all phases and places of teaching God's truth. Twenty-one chapters address four general topics:
Foundations for Christian Teaching
Patterns and Process of Christian Teaching
Crucial Roles in Christian Teaching
Varieties of Christian Teaching
The Christian Educator's Handbook on Spiritual Formation
In Handbook on Spiritual Formation, twenty-five church leaders explore spiritual formation in the light of history. This includes specific acts of liturgy, public worship, and prayer.
The volume is an alternative to a humanistic education which has robbed some churches of the ability to transform believers. It assists congregations in producing the kind of people who can witness to the world through both their words and the depth of their being. Handbook on Spiritual Formation helps educate and nurture believers in the process of their spiritual formation.
Contributors include Dallas Willard, Donald Bloesh, Leanne Payne, John Piper, Larry Crabb, James Bryan Smith and many others.
Here is a smorgasbord of essays that range wide and between them probe deep into the roots of spiritual life. Everyone who has a ministry of pastoral guidance will find something new and useful in these pages.
—J. I. Packer, Regent College
This resource volume is long overdue and will provide the kind of help many Christians have been seeking to understand and pursue spiritual growth.
—Luder G. Whitlock, Reformed Theological Seminary
It is not often that a book combining adequate coverage of the subject, accurate information, and genuine spiritual insight appears, but The Christian Educator's Handbook on Spiritual Formation does just that. It draws together theoretical insight on spiritual formation for the academician and practical help on growing spiritually for the layperson.
—Walter A. Elwell, Wheaton College
What a pertinent topic. What a great group of writers. What a wealth of information. Having read through Wilhoit and Gangel's handbook of spiritual formation, I'm certain I'll be going back to it time and again.
—David R. Mains, The Chapel of the Air Ministries
The assembly of such an array of wisdom on the topic of spiritual formation is an editorial tour de force. I found myself pausing long over memorable paragraphs and beginning each chapter with ever mounting anticipation. Uplifting!
—R. Kent Hughes, College Church in Wheaton
The Christian Educator's Handbook on Adult Education
For nearly thirty years the general education field has directed considerable attention toward answering the question of how adults learn. With Handbook on Adult Education, evangelicals can join the discussion.
This volume represents one of the first comprehensive attempts by evangelicals to apply adult education theory to Christian education. Contributors from across the evangelical spectrum present interpretation, application, and critique of the education model of influential adult education specialist Malcolm Knowles… all from a biblical perspective.
The result is a highly practical volume composed of applied, theoretical, and age-specific chapters. It will appeal to both those in ministry and in higher education. Also included is a chapter by Knowles, reflecting on his contributions to Christian adult education.
The variety of topics addressed, the andragogical model utilized, and the expertise of the contributors combine to offer Christian educators a manual that provides a solid biblical and theoretical base and hands-on guidance for maintaining a program of adult education.
—C. Ferris Jordan, Theological Educator
About the Editors
Kenneth O. Gangel (Ph.D., University of Missouri) is now executive director of the graduate studies division at Toccoa Falls College. Prior to taking this post, he was a distinguished professor at Dallas Theological Seminary. A noted expert on Christian education, he has written many books, including Feeding and Leading.
James C. Wilhoit (Ph.D., Northwestern) is professor of Christian education at Wheaton College. He has authored a number of scholarly articles and books, including Christian Education and the Search for Meaning.
Howard G. Hendricks (B.A., Wheaton College; Th.M., Dallas Theological Seminary; D.D., Wheaton College) is a household name in Christianity, and in his 50-plus years of ministry, he has directly or indirectly touched millions of lives. Today he maintains a rigorous travel schedule and has ministered in over 80 countries through speaking engagements, radio, books, tapes, and films. He is also the former Bible teacher and chaplain for the Dallas Cowboys football team.
Sample Pages from the Print Edition
More details about these resources