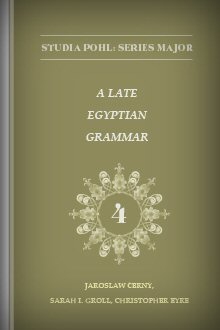 A Late Egyptian Grammar
•
Runs on Windows, Mac and mobile.
Your Custom Discount
Reg. Price $49.95
Pre-order Price $44.95
Your Price $44.95
You Save $5.00 10%
Your Price
What's Pre-Pub?
$44.95
Reg.: $49.95
Print: $60.00
Overview
This rare grammar, a look at the language of Egypt's 20th and 21st dynasties, demonstrates the uniqueness of Late Egyptian. It establishes the meaning of ancient texts and uses them to illuminate Late Egyptian—the only way into the dead language's complex mechanics. This essential grammar brings Late Egyptian to life, revealing the ancient linguistic and literary foundations predating our oldest Coptic Christian texts.
With Logos Bible Software, your research on Late Egyptian is easier than ever! As you read through this guide, you can cross-reference the text with Logos' other ancient texts and grammars, deepening your understanding of Late Egyptian words, phrases, and terms.
Key Features
Written and edited by the world's foremost Egyptologists
Considered among Egyptology's most authoritative works
Updated to the fourth edition with transliterations and translated examples
Praise for the Print Edition
This heavyweight book opens up the world of Ramesside and later Egyptian language. Pay attention to the word-form of the hand-drawn examples presented—the author has (commendably) presented the glyphs in a fair approximation of their original papyrus appearance with authentic omission-strokes and placeholders.
—Online reviewer
Product Details
Title: A Late Egyptian Grammar
Author: Christopher J. Eyre, Sarah I. Groll, Jaroslaw Černý
Edition: 4th
Publisher: Pontifical Biblical Institute
Publication Date: 1993
Pages: 620
About the Authors
Jaroslaw Černý (1898–1970) was a Czech Egyptologist. He earned his PhD from Charles University in Prague in 1929. He taught Egyptology at both University College in London and Oxford University.
Sarah Israelit Groll (1925–2007) was an Israeli Egyptologist. She studied at the Hebrew University in Jerusalem and at Oxford under Jaroslaw Černý. She later founded the Department of Egyptology at the Hebrew University.
Christopher J. Eyre is currently professor of Egyptology and director of research for the School of Archaeology, Classics, and Egyptology at the University of Liverpool.
Sample Pages from the Print Edition