Colossians & Philemon: Evangelical Exegetical Commentary (EEC)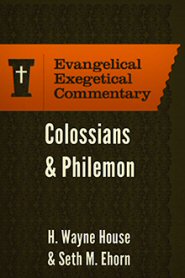 Colossians & Philemon: Evangelical Exegetical Commentary (EEC)
•
Runs on Windows, Mac and mobile.
When you order this volume, Philemon will download today. The commentary on Colossians will download automatically when it is complete.
Overview
The Evangelical Exegetical Commentary series, written from an evangelical perspective, incorporates the latest in biblical scholarship. It combines historical, literary, and theological explanations with ideas for applying the Bible to everyday life.
In Colossians & Philemon, Seth M. Ehorn takes the uncommon stance that slavery is not the central issue of Philemon; instead, God's providential work is. According to Ehorn, this is seen in the themes that Paul addresses throughout his letter: reconciliation, forgiveness, love, and faithfulness—attributes that Christ exhibited. Ehorn adopts the view that Paul wrote to his friend, Philemon, on behalf of Onesimus, Philemon's runaway slave. As a "friend of the master," Paul reminded Philemon of his Christian character, suggesting that he should continue to act accordingly. By using and interacting with various interpretive approaches (discourse, rhetorical, epistolary, sociological), Ehorn shows how Paul embodied Christ's actions and how we can do the same.
In the Logos edition of Colossians & Philemon, you get easy access to Scripture texts and to a wealth of other resources in your digital library. Hovering over Scripture references links you instantly to the verse you're looking for, and with Passage Guides, Word Studies, and a wealth of other tools from Logos, you can delve into God's Word like never before!
Key Features
Academic and evangelical commentary on Colossians and Philemon
Cutting-edge evangelical research
Bibliographical references
Product Details
Title: Colossians & Philemon: Evangelical Exegetical Commentary (EEC)
Authors: H. Wayne House and Seth M. Ehorn
Series: Evangelical Exegetical Commentary (EEC)
Publisher: Lexham Press
Estimated Publication Date for Colossians: August 1, 2023
Publication Date for Philemon: 2011
About the Authors
H. Wayne House is a distinguished research professor of biblical & theological studies at Faith Evangelical Seminary in Tacoma, Washington. He is the author of Charts of Contemporary Cults, Sects, and Religious Movements, Charts of Christian Theology and Doctrine, and Divorce and Remarriage: Four Christian Views.
Seth M. Ehorn is currently a doctoral candidate studying New Testament language, literature, and theology at the University of Edinburgh, New College. Prior to studying at New College, he completed an MA in biblical exegesis at Wheaton College Graduate School in Illinois, where he was awarded the Merrill C. Tenney Award for New Testament studies. He has contributed several articles to the Baker Illustrated Bible Dictionary (forthcoming) and written many book reviews in academic journals.
More details about these resources