Bible Study Magazine—July–August 2012 Issue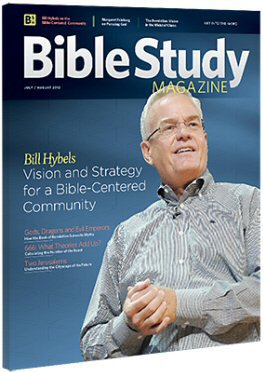 Bible Study Magazine—July–August 2012 Issue
Overview
Get Bible Study Magazine now by purchasing the July–August 2012 back issue for $3.95. That's 20% off the newsstand price of $4.95!
Bible Study Magazine is a print magazine (not an emagazine) published by Lexham Press. Six times a year, Bible Study Magazine delivers tools and methods for Bible study as well as insights from respected teachers, professors, historians, and archeologists.
Read pastor profiles, author interviews, and stories of individuals whose thoughtful engagement with Scripture has shaped their thinking and defined their ministries. Bible Study Magazine reveals the impact of God's Word in their lives—and the power of Scripture in yours.
Each Issue of Bible Study Magazine Includes:
Feature Stories
Discover new ways to connect the Bible with your ministry and life through in-depth interviews and articles from the biggest names in the church and biblical scholarship.
Bible Study Tips
Explore the Word—thoughtful and engaging authors tackle the tough passages in Scripture, explain difficult concepts, and confront complex interpretations in a way that helps the Gospel make sense in your life.
On the Cutting Edge
Keep up to date on the latest news in biblical research, including archaeological and historical findings.
A New Kind of Bible Study
Encounter God by yourself or with other believers with an ongoing Bible study in each issue.
On Teaching
Get advice on how to preach or teach the Bible in any setting from well-known pastors and teachers who use the Bible every day.
Tool Box
Learn how to effectively use the latest Bible study tools with our how-to guides.
In the News
Keep informed about the latest news in biblically related topics, discoveries, and events.
Thoughts from the Ancients
Read the Bible together with those who have come before you, and learn from the wisdom of the early church—in its own words.
Word Studies
Get a close-up view of the Bible! Each issue contains insights about specific words found in the Bible and tutorials on how to do word studies.
If Only Someone Would Explain It to Me
Enrich your understanding of the Bible with explanations of biblical and theological concepts by top scholars.
Did You Know?
Discover interesting facts about the place of the Bible in the contemporary and the ancient world.
What They Don't Tell You in Church
See things you never noticed in biblical passages you have read dozens of times.
Biblical Humor
The funniest stories and the best comics related to the Bible, useful for any setting.
Book Reviews
Stay on top of the latest books about Bible study. Each issue contains reviews of books and commentaries to equip you in your study of God's Word.
Excerpts from the July–August 2012 Issue!
Bill Hybels: Vision and Strategy for a Bible-Centered Community
"There's a hunger for teaching from Scripture, but massive numbers of this generation have not grown up with opportunities to connect the Christian dots," says Bill Hybels, pastor of Willow Creek Community Church. "I end a lot of the messages by saying, 'I can't read your Bible for you this week. I can't say your prayers for you. We keep free Bibles around for people who are explorers—start in. Start reading.'
"I work with thousands of pastors around the country whose churches are flourishing, and they have a white-hot vision for what God has for their future. They teach the Scriptures unapologetically, they have fantastic worship, they're baptizing hundreds of people a year, young and old are coming, rich and poor are coming, and black and white are coming. . . . They are the [churches] Jesus said that the gates of hell could not prevail against."—Jessi Gering
Margaret Feinberg on Pursuing God
"We shouldn't simply accept something we've been told our entire lives or something that's embraced in the culture of the church without searching out the matter for ourselves in the Scripture. Too often, we allow others to do the hard work of Scripture for us. God calls us to spend a lifetime exploring who He is. When we begin diving into the Scripture prayerfully and thoughtfully, we not only search the Bible, but we allow the Bible to do the hard work of searching us. We can thoughtfully hold up the lens of Scripture and ask God, 'What's your heart on this matter?' In that place, we encounter God, and we're ushered into a place of radical transformation, life and growth."—Ryan Pemberton
Behind the Curtain
So when Revelation 1:1 introduces the last book of the Bible as "the revelation of Jesus Christ," what does it say about the content and purpose of this book? Jesus is unveiling something; He is showing what is real about the world. The seven churches who were the original recipients of the book were currently experiencing, or were about to experience, persecution. Jesus wanted to show them what was going on "behind the scenes" so that they would have the strength to endure it.—Elliot Ritzema
We have a limited supply of back issues of the July–August 2012 Bible Study Magazine. Get your copy while you still can!
Key Features
Simply the Gospel: 8 Weeks in the Book of James
Revelation: Vision in the midst of chaos
Bible study tips from other readers!
Product Details
Title: Bible Study Magazine—July–August 2012 Issue
Editor-in-Chief: John D. Barry
Academic Editor: Michael S. Heiser
Art Director: Sean Fields
Graphic Designer: Kayla Soper
Managing Editor: Rebecca Kruyswijk
Advertising Sales: Santiago Galeano
Marketing: Dan Pritchett, Phil Gons, Scott Lindsey, Jonny Heemstra, and Jeffrey Kranz
Publisher: Lexham Press