Treasures from Scripture: The Old Testament (23 vols.)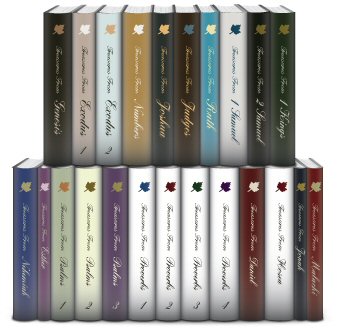 Treasures from Scripture: The Old Testament (23 vols.)
•
Runs on Windows, Mac and mobile.
Your Custom Discount
Reg. Price $249.95
Pre-order Price $199.95
Your Price $199.95
You Save $50.00 20%
Your Price
What's Pre-Pub?
$199.95
Reg.: $249.95
Print: $418.00
Overview
Treasures from Scripture: Old Testament presents 23 expository commentaries, with an emphasis on practical application. The commentaries include historical information, alliterated outlines, topical studies, original-language studies, and sermon illustrations to illuminate the biblical text. This easy-to-read collection makes Scripture more interesting and informative. It will enrich your understanding of God's word and assist you in preparing for your next Bible study, Sunday school class, or sermon.
In the Logos edition, each passage links to your favorite translation, and you can read Treasures titles side by side with your other commentaries. This makes these volumes more powerful and easier to access than ever before. Perform powerful searches by topic or Scripture reference—finding, for example, every mention of "repentance" or "restoration."
Key Features
Provides easy-to-understand commentary on Scripture
Contains alliterated outlines, topical studies, and sermon illustrations
Includes topical and illustration indexes
Praise for the Print Edition
The books are some of the best material I've read and studied. They fed me. It has been a joy and blessing to study these books.
—Mike Oldham, pastor, Central Baptist Temple, Sanford, North Carolina
I have been reading and studying through Dr. Mattoon's Treasure series and I must say that they have truly been a blessing to me. Not only do they contain a wealth of information but they have also helped me to study the Bible in a way that I had not before. Consequently, they have helped me in my own sermon preparation. The Bible believing world has needed such resources.
—Walter Myers, pastor, First Bible Baptist Church, Maynard, Massachusetts
I never thought the presentation of truth could be as practical, clear, timely, and satisfying. The books are like a prepared meal ready to eat.
—David Tandoc, pastor, Dagapapn City, Philippines
This is excellent material. It is probably the most practical material for sermon preparation of anyone that I have read. I highly recommend it for pastors.
—Roy Edgemon, former director of discipleship and family ministries, LifeWay Christian Resources
Dr. Rod Mattoon has obviously searched the Scriptures in the production of the Treasures commentary series. Perusing these works will reveal the depth and breadth of his scholarship. I recognize the value of this resource for students of the Bible. I heartily recommend it.
—Franklin L. Kirksey, pastor, First Baptist Church, Spanish Fort, Alabama
Dr. Mattoon's commentaries are well outlined, sound in exposition and rich in practical application. In addition there are numerous topical studies in each volume. This series is worth the investment.
—Glen Spencer, pastor, Vernon Baptist Church, Tunkhannock, Pennsylvania
Product Details
Title: Treasures from Scripture: The Old Testament
Author: Rod Mattoon
Publisher: Rod Mattoon
Volumes: 23
Pages: 8,082
About Rod Mattoon
Rod Mattoon is the pastor of Lincoln Land Baptist Church in Springfield, Illinois. He attended Hyles-Anderson College and Bethany Theological Seminary, where he earned his Doctor of Ministry. He is the author of over 40 books on the Old and New Testaments.