"I Am Not a Venti Cup"–Style Logos Cup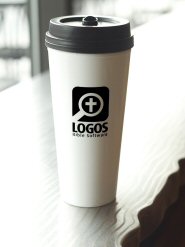 "I Am Not a Venti Cup"–Style Logos Cup
Overview
The "I Am Not a Venti Cup"–style cup closely resembles a paper coffee cup—but take a look, and you'll see that it's actually made of SAN plastic. Reusable and biodegradable—unlike traditional disposable cups—this 20 oz. cup includes a screw-on lid with a spillproof opening to keep liquids warm.
Product Details
Item: "I Am Not a Venti Cup"–Style Logos Cup
Cup Material: SAN plastic
Lid Material: SAN plastic
Volume: 20 oz.