Expositor's Bible Commentary, Revised Edition (13 vols.)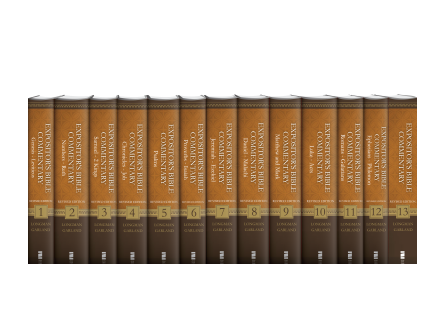 Expositor's Bible Commentary, Revised Edition (13 vols.)
•
Runs on Windows, Mac and mobile.
Explore the Text's Core Meaning
An award-winning legacy continues; completely revised and featuring world-class evangelical scholarship, the Expositor's Bible Commentary is now available!
Since 1976 pastors, teachers, and students have turned to the EBC for content they can trust. With two million copies sold, the award-winning legacy continues in 2012 with a complete, totally revised, and updated 13-volume set. This new series contains 60% new content and provides the most recent evangelical scholarship from world-class scholars including new contributors George Guthrie, John Walton, Andrew E. Hill, Eugene H. Merrill, Andreas Köstenberger, and more.
Scholarly and accessible, The Expositor's Bible Commentary, Revised Edition (13 vols.) is a comprehensive and succinct commentary that guides users to the text's core meaning. With enhanced ease-of-use features, specialized discussion of key words and concepts, and each commentator's point-of-view on the text's implications for life, it is a vital resource for every preacher, teacher, and student of the Bible.
With the Logos edition of the Expositor's Bible Commentary, Revised Edition (13 vols.) you can perform powerful searches and access a wealth of information on the Old and New Testaments quickly and easily! Hovering over Scripture references displays the text in its original language or your preferred English translation, and you can link the commentaries to the other commentaries in your digital library for accurate research and a fuller understanding of the Bible. Readers will find this series a welcome and essential aid to a better understanding of the Bible.
What's New
Fully revised and updated
Features 30 new contributors
New resources through updated introductions and bibliographies
60% brand new content
The latest in evangelical scholarship
Substantially updated in its discussion of theological and critical issues
Key Features
All commentators work from the original languages
Includes both Semitic and Greek words, along with transliteration and translation for readers unacquainted with biblical languages.
Thorough introductions for each biblical book with a short bibliography and outline
"Notes" sections provide a specialized discussion of key words or concepts, as well as helpful resource information.
"Reflections" sections include expanded thoughts
Irenic presentations of passages where key differences of interpretive opinion exist
Includes NIV text
Praise for the Print Edition
These writers are all-stars! The Expositor's Bible Commentary—Revised is a valuable resource for all who teach the Scriptures.
—John Ortberg, Senior Pastor, Menlo Park Presbyterian Church
These commentaries offer an abundance of excellent scholarship from many of the most prominent and careful evangelical biblical scholars today, both older and younger.
—Craig S. Keener, Professor of New Testament, Asbury Theological Seminary
The Expositor's Bible Commentary has been a core resource for decades with good reason: it is concise, clear, and focused on giving the key points of a book's message. Now with this revised edition, one can continue to use this fine resource and know the discussion is up to date, utilizing all the strengths of the original.
—Darrell L. Bock, Research Professor of New Testament Studies, Dallas Theological Seminary
Every student, teacher, and pastor needs a foundational set of commentaries that covers the Bible from Genesis to Revelation. The Expositor's Bible Commentary (13 volumes) is that set. Written from an evangelical point of view and newly revised by leading evangelical scholars, the Expositor's Bible Commentary series provides students, teachers, and pastors with a comprehensive tool for studying and explaining the Scriptures. I have used the Expositor's Bible Commentary over the years and look forward to using this newly revised edition for many years to come.
—Mark Futato, Robert L. Maclellan Professor of Old Testament and Academic Dean, Reformed Theological Seminary, Orlando, FL
The revised edition of the Expositor's Bible Commentary offers students of the Scriptures quick and reliable access to the entire Bible in thirteen reader-friendly volumes. Written by the foremost evangelical scholars of our time, the commentaries on individual books seek to answer the questions that serious readers ask when they read the Bible. If there is one set of commentaries that all pastors and teachers should have, this is it.
—Daniel I. Block, Gunther H. Knoedler Professor of Old Testament, Wheaton College
The Expositor's Bible Commentary is a superb tool to help the Christian who wants to better understand God's Word. As a preacher, I turn to it again and again. From the Psalms to the Gospel of Matthew, some of the best commentaries are to be found in this series. I'm thankful for these scholars and for their work.
—Mark Dever, Senior Pastor, Capitol Hill Baptist Church, Washington, DC
As a seminary student two of my professors were writing (and wrote) two of the volumes in The Expositor's Bible Commentary, and I have used this commentary my entire career. I am delighted at the updates and revisions and know that this series continues to set the standard for solid, evangelical, expository explanations of God's Word—every pastor needs this series on the shelf.
—Scot McKnight, Professor of New Testament, Northern Seminary
The Expositor's Bible Commentary—Revised is one of my favorite 'go-to' Bible study and sermon prep resources. It's 'accessible scholarship.' When I know a passage well it always takes me deeper. When I don't know a text so well, I can count on it to give me a clear overview and a great foundation. That's why it's always one of the key resources I recommend every Bible teacher and church planter add to his library. With its combination of proven and updated scholarship it will serve you and those you teach well.
—Larry Osborne, Pastor, North Coast Church, Vista, CA
The greatest need for the church is excellent commentaries that can be used by pastors and Bible teachers. The Expositors Bible series admirably filled this need for decades, and now it is even better and a critical contribution for enabling the church to be Bible-centered and more biblically literate. I recommend this highly for every Christian.
—Grant Osborne, Professor of New Testament, Trinity Evangelical Divinity School
When the Expositor's Bible Commentary first appeared in the 1970s and 1980s, there were far fewer evangelical commentary series available than there are today, and many of the contributions to that first edition took their place among the best available. Some, inevitably, were weaker than others, but these have almost all now been replaced and the entire series strengthened and updated. For concise commentary, the EBC once again takes its place as among the best volumes available.
—Craig L. Blomberg, Distinguished Professor of New Testament, Denver Seminary
Product Details
Title: The Expositor's Bible Commentary, Revised Edition
General Editors: Tremper Longman III and David E. Garland
Edition: Revised
Publisher: Zondervan
Volumes: 13
Pages: 11,939
About the Editors
Tremper Longman III (PhD, Yale University) is Robert H. Gundry Professor of Biblical Studies at Westmont College in Santa Barbara, CA.
David E. Garland (PhD, Southern Baptist Theological Seminary) is the associate dean of academic affairs and William M. Hinson Professor of Christian Scriptures at George W. Truett Seminary, Baylor University, in Waco, TX.
^
* New contributor to the Expositor's Bible Commentary, Revised Edition