New Covenant Commentary Series Update (2 vols.)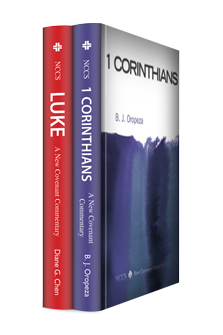 New Covenant Commentary Series Update (2 vols.)
•
Runs on Windows, Mac and mobile.
Overview
The New Covenant Commentary Series, compiled by contributors from a diverse range of backgrounds, devotes itself to the task of biblical interpretation and theological reflection. This collection unwraps each selected New Testament book section-by-section, providing a clear view of the theology and application within. Focusing on both the text and various contexts of each book, this collection illustrates the impact they had on faith and tradition at the time of their composition—and the significance they continue to have in contemporary life, faith, and ministry.
In the Logos edition, these volumes are enhanced by amazing functionality. Important terms link to dictionaries, encyclopedias, and a wealth of other resources in your digital library. Perform powerful searches to find exactly what you're looking for. Take the discussion with you using tablet and mobile apps. With Logos Bible Software, the most efficient and comprehensive research tools are in one place, so you get the most out of your study.
Key Features
Section-by-section commentary on two New Testament books
Comprehensive introduction, abbreviations, bibliography, and indexes for each volume
Contributors from a diverse range of backgrounds
Individual Titles
In this highly readable and engaging commentary on the Gospel of Luke, Diane Chen introduces her readers to the particularities of the world of Jesus, steeped in Jewish history and convictions yet threatened by Roman power and hegemony. In story after story, Chen brings to focus the diligence of a faithful historian, the artistry of a masterful storyteller, and the courage of an insightful theologian behind this well-loved Gospel. In it Luke presents God's plan of salvation in the birth and death, word and deed, and identity and mission of Jesus of Nazareth—a plan that is unapologetically counterintuitive: the proud is humbled and the lowly is lifted up; the ostracized is embraced and the religious elite is rejected. Modern readers will receive more than a lucid explanation of the biblical text; they will be challenged to find their own place in Jesus' story, one that encourages self-reflection and necessitates a personal response.
This new commentary on Luke further establishes Diane Chen's credentials as scholar committed to the church. While sensitively attending to the interaction of text and context, she is also attuned to the impact of the text upon faith and praxis. The work deftly balances exegetical, historical, and pastoral insights, and is a readable and reliable guide to the Gospel of Luke. More than that, her love for this gospel and her passionate commitment to its narrative of salvation shines through the pages of this commentary.
—Marianne Meye Thompson, George Eldon Ladd Professor of New Testament, Fuller Theological Seminary
Diane G. Chen is Professor of New Testament at Palmer Theological Seminary of Eastern University, St. Davids, Pennsylvania. She is the author of God as Father in Luke-Acts (2006) and Let Me More of Their Beauty See: Reading Familiar Verses in Context (2011).
This compact commentary on 1 Corinthians is both readable and full of insights that will engage students, ministers, and scholars alike. The Apostle Paul writes to a relatively new church in which members are failing to maintain solidarity with other members. They struggle to find their unique place in Roman society as Gentile followers of Jewish leaders that proclaim Christ as Lord. Their many problems include competition over leadership and social prestige, sexual impropriety, household conflicts, idol foods, table fellowship, protocols on gender and the use of spiritual gifts, and confusion about death, immortality, and Christ's return. Oropeza addresses Paul's response to these and other issues as he engages ancient biblical, Jewish, and Greco-Roman sources along with recent scholarship. This is a must-read for those who want to understand the Corinthian situation and Paul's response in a new way.
This commentary deeply embeds Paul in Jewish, Greek, and Roman moral, political, mythical, and religious beliefs and practices in the ancient Mediterranean world. The challenge for the reader is how to translate, transfer, or reconfigure these beliefs and practices into a Christian lifestyle in a highly different but related world during the twenty-first Century.
—Vernon K. Robbins, Emory University
B. J. Oropeza is Professor of Biblical and Religious Studies at Azusa Pacific University (Azusa, CA). Among his numerous publications are Exploring Second Corinthians (2016) and Exploring Intertextuality (2016, co-editor Steve Moyise)
More details about these resources