Mobile Ed: TH101 Introducing Bible Doctrine I: Theology, Divine Revelation, and the Bible (audio)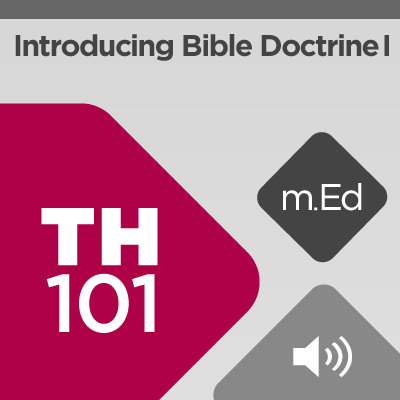 Mobile Ed: TH101 Introducing Bible Doctrine I: Theology, Divine Revelation, and the Bible (audio)
•
Runs on Windows, Mac and mobile.
Overview
Learn what it means to "do theology" and how scholars and students integrate it into Bible study. This course introduces students to why systematic theology is important and what "doing theology" means. Drs. Ronn Johnson, Carl Sanders, and Mike Heiser challenge students to think about the roles of divine revelation, the Bible, Christian tradition, logic, and philosophy in articulating doctrine. Examine major topics, essential ideas, doctrinal issues and disagreements, and more.
This is the audio only version of TH101 Introducing Bible Doctrine I: Theology, Divine Revelation, and the Bible. To purchase the full course, click here.
Course Outline
Unit 1: Prolegomena: What Is Theology?
The Starting Point of Theology
Types of Theology and Their Starting Points
What Is Evangelical Theology?
Looking Up Theological Terms in Logos
The Sources and Resources of Theology
Unit 2: Why Theology? The Tasks and Limits of Theology
Why Theology?
The Importance of Theology
The Tasks and Limitations of Theology
Objections to Theology
Unit 3: Tradition and Theology
Tradition Under Suspicion
Three Approaches to Tradition
Why Should We Value Tradition?
Creating a Collection for Creeds and Catechisms
Unit 4: Theological Method: Introductory Suggestions
Doing Theology: The Simple Way
Using a Passage List to Study a Topic or Theme
Millard Erickson's Theological Method
How to Do Theology
Using Logos Documents and Favorites to Organize Research
How to Organize a System
Theological Language
Unit 5: Biblical and Systematic Theology
Introduction and History
Biblical Theology Defined
Systematic Theology Defined
Biblical or Systematic Theology? An Example
Unit 6: Spiritual Preparation
The Intellectual Virtues and Theology
Preparation: Intellectual Virtue
Virtue Epistemology
Conclusion
Unit 7: Postmodernism and Theology
Postmodernism
The Rise of Postmodernism
Responding to Radical Postmodernism
Unit 8: The Doctrine of Revelation
Introduction to the Doctrine of Revelation
How Has God Spoken? Part 1
How Has God Spoken? Part 2
Is Revelation Moral?
What Are Our Challenges?
How Is the Bible Revelation?
Unit 9: The Doctrine of Inspiration
Three Areas of Discussion
Inspiration: Misconceptions
Phenomena of the Text: Historical Record
Phenomena of the Text: Editing
Phenomena of the Text: Author's Agendas/Memory
Finding Different Gospel Harmonies
Phenomena of the Text: Sources
Phenomena of the Text: Borrowed Material
Phenomena of the Text: Changing Content
Phenomena of the Text: Cultural Markers
Searching for Passages and Topics
Phenomena of the Text: Literary Structures
Highlighting Old Testament Genres with AFAT
Phenomena of the Text: Incomplete Content
Phenomena of the Text: Ancient Content
Understanding Original Language Words with Logos Guides and Tools
Phenomena of the Text: Offensive Content
Biblical Data for Inspiration
Using a Collection of Systematic Theologies to Define Inspiration
Applying the Data: Historical Record
Applying the Data: Editing
Applying the Data: Author's Agendas/Memory
Applying the Data: Sources
Applying the Data: Borrowed Material
Applying the Data: Changing Content
Applying the Data: Cultural Markers
Applying the Data: Literary Structures
Applying the Data: Incomplete Content
Applying the Data: Ancient Content
Applying the Data: Offensive Content
Summary of the Doctrine of Inspiration
Unit 10: Doctrine of the Bible: Inerrancy
Assumptions and Definitions
Researching Nonbiblical Topics in Logos
Difficulty of Definition
Four Important Areas to Understand
Transmission and Translation
Unit 11: Doctrine of the Bible: Canon and Canonicity
Terminology and Orientation
Old Testament Canon
New Testament Canon
Concluding Thoughts on Canon
About the Instructors
Dr. Carl Sanders is an associate professor of theology at Lancaster Bible College's Capital Bible Seminary. He has taught at college and seminary levels since 1999 at several schools: Bethel University (St. Paul, Minnesota), Northwestern College (St. Paul, Minnesota), and Washington Bible College in Washington, DC, where he also served as chair of the Bible and theology department (2003–2012).
Dr. Sanders is well liked by his students for his down-to-earth presentation of Bible doctrine. Students quickly learn that he enjoys talking about theology and has a quick wit. Among his strengths as a lecturer are his ability to distill information to essential elements, as well as his good-natured way of fairly explaining differences in theological positions. Dr. Sanders has a keen interest in urban ministry and has served for many years in racially diverse urban congregations. His interest in local-church experience helps him practice theology in ways that reflect the diversity present in the body of Christ. He strives to make theology interesting and practical.
Dr. Ronn Johnson, lecturer in biblical studies at the University of Northwestern St. Paul, Minnesota, has been the senior pastor at his church, Coon Rapids Evangelical Free, since 2006. He previously taught in the Bible departments at Pillsbury Baptist Bible College (1991–1994) and The Master's College (1994–1996).
Dr. Johnson is well known by his students for demanding that they think about what they believe instead of being passive listeners. His approach is the opposite of proof-texting—simply quoting Bible verses without consideration of what they might mean in context. His goal is to drive home the point that the Bible is more than a collection of verses to be memorized and thrown into play—it's a message from God that had a clear, coherent purpose that we need to hear without imposing our own traditions on the text. That approach of loyalty to the Bible above all else comes through in his Mobile Ed sessions on Bible doctrine.
He and his wife, Susan, have three teenage children. His pastimes include reading and giving too much attention to Kirby, the family dog.
As academic editor for Logos Bible Software, Dr. Mike Heiser currently focuses on Logos Mobile Education courseware and producing academic content for Logos. His varied academic background enables him to operate in the realm of critical scholarship and the wider Christian community. His experience in teaching at the undergraduate level and writing for the layperson both directly contribute to the company's goal of adapting scholarly tools for nonspecialists.
Dr. Heiser can do translation work in roughly a dozen ancient languages, including Biblical Hebrew, Greek, Aramaic, Egyptian hieroglyphs, and Ugaritic cuneiform. He also specializes in Israelite religion (especially Israel's divine council), contextualizing biblical theology with Israelite and ancient Near Eastern religion, Jewish binitarianism, biblical languages, ancient Semitic languages, textual criticism, comparative philology, and Second Temple period Jewish literature.
Dr. Heiser has an active ministry to people whose worldviews are molded by occult, paranormal, and esoteric beliefs. He observed that many who have adopted "alternative" worldviews were formerly traditional theists and Christians who left the faith when their difficult questions went unanswered, or when spiritual leaders failed to address their experiences. Dr. Heiser seeks to fill these gaps as a Christian scholar, and has become well known in these circles through writing, speaking, and numerous radio appearances.
Dr. Heiser is originally from Lebanon, Pennsylvania. He and his wife, Drenna, married in 1987, and have four children.
More details about this resource