Mobile Ed: OT303 Theology of Genesis (audio)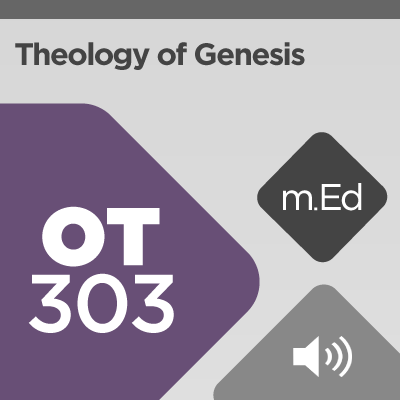 Overview
David W. Baker brings his interest in pedagogy and the Pentateuch to this Mobile Ed course on the theology of Genesis. In OT303 you will be introduced to the meaning and work of biblical theology, how it differs from systematic theology, and how to approach Scripture in a way that affects the reader for God's glory. In addition, you will participate in a broad study on key theological themes found in the first book of the Bible, including an in-depth look at the picture Genesis paints of God; what it means for humanity to be created in God's image; the impact of the fall and sin on both humanity and the rest of creation; and God's plan of restoration and redemption—all informed directly by Scripture. This practical approach to biblical theology will show you how the book of Genesis shapes discipleship today.
This is the audio only version of OT303 Theology of Genesis. To purchase the full course, click here.
Course Outline
Unit 1: Introduction to Biblical Theology
The Bible and Theology: What and Why?
Methodology: How to Do Theology
Unit 2: God, Man, and Creation
The Beginning of Time
Theology of God in Genesis 1
Navigating Lexicons to Explore the Meaning of 'Elohim
The Spirit of God
Discovering the Meanings of Ruach in Genesis
Theology through Literary Structure
Theology of Relationships
The Image of God
Yahweh God's Relationship with Humanity
The Garden of Eden
Using Proximity Searching to Research Symbolism from the Garden of Eden
Human Sexuality
Marriage
God and Humanity
Unit 3: Sin and Its Consequences
Sin and Covenant: A Canonical Perspective
Guilt and Shame
Evil
The Serpent and Satan
Consequences of Sin
Cain and Abel
Broken Relationships due to the Fall
Cain and Seth
Unit 4: Genealogies, the Flood, and God's Promises
Genealogies: Theological and Literary Functions
Analyzing Genealogies in the Book of Genesis
The Approaching Flood
Theological Outcome of the Flood
Worship, Covenant, and Circumcision
Matriarchs: Sarah, Hagar, and Rebekah
Matriarchs: Leah and Rachel
The Binding of Isaac
The Story of Joseph
Unit 5: Conclusion
Theological Overview of Genesis
Comparing Theologies of Genesis 1:26
Closing Remarks
About David W. Baker
Dr. David W. Baker is a professor of Old Testament and Semitic languages at Ashland Theological Seminary in Ohio, where he's taught since 1986, following teaching assignments at the University of Durban-Westville and the University of the Witwatersrand in South Africa. He's also lectured in Argentina, Australia, Canada, the Netherlands, New Zealand, and the United Kingdom.
More details about this resource