Mobile Ed: LD102 The Ministry Leader and the Inner Life (audio)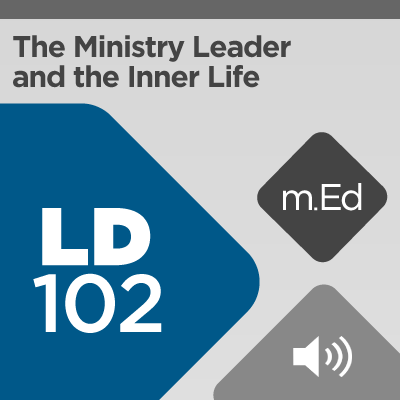 Mobile Ed: LD102 The Ministry Leader and the Inner Life (audio)
•
Runs on Windows, Mac and mobile.
Overview
A lack of spiritual formation among ministry leaders has resulted in frequent ethical failures, lost positions, and devastated ministries. In LD102 Dr. Irving illustrates the need for attending to the inner life for anyone involved in ministry leadership. This course helps defend against spiritual burnout and ethical failures by walking you through a process of spiritual formation that is rooted in both community and the Holy Spirit. Dr. Irving offers a thorough explanation of contemporary leadership emergence theory, undergirding this work with a survey of spiritual gifts and providing a holistic approach to personal formation. This course concludes with a fourfold approach to discipleship that you will appreciate as much for yourself as for discipling others.
This is the audio only version of LD102 The Ministry Leader and the Inner Life. To purchase the full course, click here.
Course Outline
Introduction
Introducing the Speaker and the Course
Unit 1: Introduction to Leadership
The Leader's Inner Life
Levels of Leadership
Self-Leadership
Spiritual Formation in Community
Spiritual Formation in Authenticity
Spiritual Formation in God's Presence
Spiritual Formation in Process
Spiritual Formation in the Spirit
Emotional Intelligence
Increasing Emotional Intelligence
The Dark Side of Leadership
Finding Context for Your Story
Unit 2: Personal Formation: Self-Leadership Essentials
Integrity and the Prevention of Moral Failure
Foundations of Leadership
Self-Attention
Overview of Leadership Emergence Theory
Applying Leadership Emergence Theory
Resiliency and Effective Leadership
Self-Differentiation and Effective Leadership
Self-Identity and Effective Leadership
Unit 3: Personal Formation: Life Story
The Importance of Life Story
Understanding Your Life Story
Investing in Your Life Story
Life Callings
Calling and Purpose
Life Story and Life Calling
Life Values
Actualizing Life Values
Life Goals
Guidelines for Setting Goals
Life Motivation
Personality Types
Personality Types and Life Gifts
Spiritual Gifts
Spiritual Gifts for All Christians
Appreciating Spiritual Gifts
Gifts and Life Passion
Unit 4: Personal Formation: Emotions and Strengths
Emotional Maturity
Responding to Emotions
Understanding Myers-Briggs Personality Types
Assessing Myers-Briggs Personality Types
Strengths-Based Leadership
Appreciating Diversity of Strengths
Unit 5: Spiritual Formation: Perspectives
Introduction to Holistic and Eternal Perspectives
Introduction to Divine and Joyful Perspectives
Holistic Perspective: An Illustration
Holistic Perspective: Four Dimensions
Holistic Perspective: Celebrating Differences
Holistic Perspective: Engaging the Whole
Eternal Perspective: Suffering
Eternal Perspective: Spiritual Vision
Divine Perspective: Godliness
Divine Perspective: Means and Goal
Joyful Perspective: Unlimited Pleasure
Joyful Perspective: God's Grace
Dependence on God's Grace
God's Condescension
Unit 6: Spiritual Formation: The Mind
Introduction to a Holistic Model of Discipleship
Intellectual Disciplines
Knowing God Himself
Learning from the Past
Introduction to Doxological Research
Dimensions of Doxological Researchers
Priorities of Doxological Researchers: Spiritual Grounding, Part 1
Priorities of Doxological Researchers: Spiritual Grounding, Part 2
Priorities of Doxological Researchers: Godward Curiosity
Priorities of Doxological Researchers: Humble Self-Efficacy
Priorities of Doxological Researchers: Excellence in Inquiry
Priorities of Doxological Researchers: Kingdom Impact
Motivations and Goals of Doxological Research
Ultimate and Subordinate Motivations and Goals of Doxological Research
Unit 7: Spiritual Formation: The Heart
Emotional Disciplines
Private Prayer and Public Prayer
Lord's Prayer, Part 1
Lord's Prayer, Part 2
Possibilities in Prayer
Daily Examination in Prayer
Worship
Fasting
Delighting in God
Unit 8: Spiritual Formation: Actions
Missional Disciplines
Foundations of Missional Christianity, Part 1
Foundations of Missional Christianity, Part 2
Unit 9: Spiritual Formation: Community
Relational Disciplines
Unity and Fellowship
Living in Community
Unit 10: A Life of Spiritual Discipline
Addressing Busyness
Living with Margin
Progress and Productivity
Conclusion
Course Summary and Challenge
About Justin Irving
Dr. Justin Irving is the director of the doctor of ministry program and professor of ministry leadership at Bethel University in St. Paul, Minnesota. Dr. Irving has served as a worship leader and a pastor of leadership development and outreach in the local church. He has focused his writing and research on servant leadership, team leadership in the global context, self-sacrificial leadership, and the relationship between servant leadership and the effectiveness of teams in diverse ethno-linguistic communities.
More details about this resource