Mobile Ed: LD101 Introducing Ministry Leadership (audio)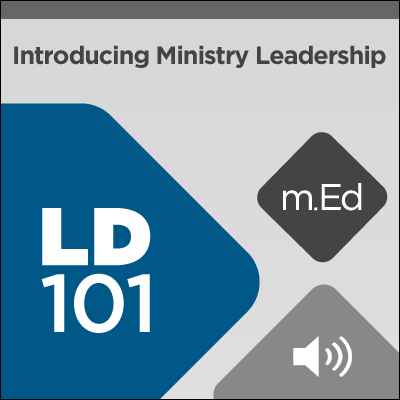 Mobile Ed: LD101 Introducing Ministry Leadership (audio)
•
Runs on Windows, Mac and mobile.
Overview
In LD101, Dr. Irving introduces the critical subject of ministry leadership. Effective leadership is an essential component of any healthy organization, but what makes ministry leadership unique? In addition to providing surveys of contemporary leadership theories and obstacles to effective leadership, Dr. Irving explains the uniquely Christian approach to leadership, offering biblical examples from both the Old Testament and the New Testament. This course also demonstrates how the radical nature of servant leadership can transform your ministry.
This is the audio only version of LD101 Introducing Ministry Leadership. To purchase the full course, click here.
Course Outline
Introduction
Unit 1: Christian Leadership
Why Leadership? Why Now?
What Is Christian Leadership?
The Example of Servant Leadership
The Power of Servant Leadership
Considering Godly Leaders
Joshua: Leadership in Early Life
Joshua: Tested and Proven Leadership
Joshua: Called and Courageous Leadership
Joshua: Failure in Leadership
Joshua: A Leader's Legacy
Leadership and Management
Vision Casting
Vision: Destination and Path
Understanding Our Times
Cultural Dimensions
Cultural Differences
Unit 2: Frameworks for Ministry Leadership
Purpose in Leadership
Holistic Leadership
Focusing on Goals
Focusing on Followers
A Biblical Model of Servant Leadership
Contemporary Models of Servant Leadership
Leading from the Inside Out
A Model for Servant Leadership: Begin with Authentic Leaders
A Model for Servant Leadership: Understand the Priority of People
A Model for Servant Leadership: Help Followers Navigate toward Effectiveness
Servant Leadership: John 13
Focusing on Purpose
Unit 3: Self-Leadership
Biblical Foundations for Self-Leadership
Values and Virtues
The Dark Side of Leadership
Leadership Emergence Theory
Self-Differentiation and Resiliency
Prioritizing Goals
Handling Conflict
Emotional Intelligence
Dimensions of Emotional Intelligence
Understanding Myers-Briggs Personality Types
Strengths-Based Leadership Instrument
Unit 4: Leading Individuals
Historical Survey of Leadership Theories
Contingency and Situational Leadership
Other Types of Leadership
Unit 5: Leading Teams and Groups
Shared Leadership
Teams and Groups
Effective Team Members
Effective Team Relationships
Effective Team Development
Effective Team Leaders
Effective Team Diagnosis
Team Dimensions and Dysfunctions
Unit 6: Leading Organizations
Introduction to Organizational Leadership
Attitudes and Approaches of Organizational Leaders: Theories X and Y
Attitudes and Approaches of Organizational Leaders: Theory Z
Adapting to Shifting Paradigms
Applying Systems Thinking to Organizational Leadership
Organizational Roles
Communication Competencies for Leaders
Level 5 Leadership
Origins of Level 5 Leadership
The Path to Excellence
Leading as a Change Agent
Leadership in Emergent Self-Organization
Reimagining the Church
A Four-Frame Model of Organizations
Priority of Culture
Conclusion
Leading with Purpose
Course Summary and Challenge
About Justin Irving
Dr. Justin Irving is the director of the doctor of ministry program and professor of ministry leadership at Bethel University in St. Paul, Minnesota. Dr. Irving has served as a worship leader and a pastor of leadership development and outreach in the local church. He has focused his writing and research on servant leadership, team leadership in the global context, self-sacrificial leadership, and the relationship between servant leadership and the effectiveness of teams in diverse ethno-linguistic communities.
More details about this resource