Mobile Ed: BI314 Matthew's Use of the Old Testament: Kingdom and Christology (audio)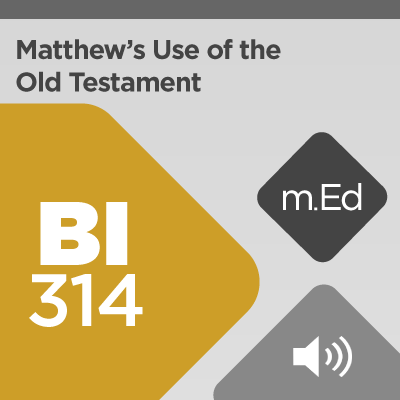 Mobile Ed: BI314 Matthew's Use of the Old Testament: Kingdom and Christology (audio)
•
Runs on Windows, Mac and mobile.
Overview
Dr. Jeannine K. Brown examines a number of themes in Matthew and describes their thorough grounding in the Hebrew Scriptures. Highlighting references to the Psalms, Daniel, and more, Brown explores Matthew's Old Testament–based Christology, including the imagery of Jesus as the representative of Israel, as Davidic king, as the embodiment of wisdom, and as the servant of Yahweh in the Servant Songs of Isaiah. Along the way, Brown provides a guide to the methodology of intertextual study and interpretation.
This is the audio only version of BI314 Matthew's Use of the Old Testament: Kingdom and Christology. To purchase the full course click here.
Course Outline
Introduction
Introducing the Speaker and the Course

Unit 1: Matthew's Fulfillment Theme

Overview
Fulfillment from the Start
Fulfillment at the End
Interpretation through Mercy
Interpretation through Justice
Jesus Fulfills the Law

Unit 2: The New Exodus

Exile and Restoration
The Virgin Birth
Bethlehem's King
Out of Egypt
Weeping in Ramah
Called a Nazarene
Matthew 3 and Kingdom
Matthew 4 and Kingdom
Illusions and Type Scenes
Matthew 11 and Kingdom
Methodology Discussion

Unit 3: Christology

Jesus as True Israel
The First Temptation
The Second and Final Temptations
Son of David
Davidic King
Davidic Messiah
Jesus as Torah and Wisdom
Jesus as Wisdom in Conflict
Isaiah's Servant Songs
Servant Songs in Matthew
The Servant's Justice and Mercy
The Servant's Purpose and Passion
Servant Summary
Jesus' Passion—Righteous Sufferer
Jesus' Passion—Vindicated Sufferer
Jesus' Passion—Son of Man

Unit 4: Narrative Christology

Overview
Jesus as Unexpected Messiah
Jesus as Fulfiller of Law and Embodiment of Wisdom
Jesus as Representative Israel
Jesus as Embodiment of Yahweh

Conclusion
About the Instructor
Dr. Jeannine K. Brown has taught at Bethel Seminary for nearly two decades in the areas of New Testament, hermeneutics, and integration. Her books include Scripture as Communication, Becoming Whole and Holy: An Integrative Conversation about Christian Formation, and the forthcoming volume on Matthew in the Teach the Text commentary series. She has written various articles that have been published in Journal of Biblical Literature, New Testament Studies, Catholic Biblical Quarterly, Journal of Psychology and Theology, and Journal of Psychology and Christianity. She is also associate editor of the second edition of the Dictionary of Jesus and the Gospels.
More details about this resource