Select Works of Hans Boersma (2 vols.)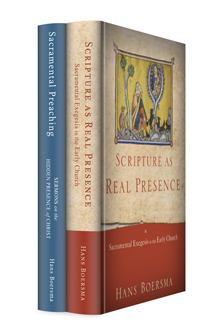 Select Works of Hans Boersma (2 vols.)
•
Runs on Windows, Mac and mobile.
Your Custom Discount
Reg. Price $63.99
Sale Price $34.99
Your Price $34.99
You Save $29.00 45%
Your Price
What's Pre-Pub?
$34.99
Overview
The reading of the word of God is intimately tied with his will and his work in the world. Hans Boersma posits a sacramental presence of Christ the preaching of the Bible, and in the reading of the Old Testament. His guidance for preaching provides exegetical and homiletical paths toward this richer picture of teaching God's word. Relying on the example of the Church Fathers, his approach is tied to historical interpretive and theological practices from the past. As the J.I. Packer Professor of Theology at Regent College, his perspective provides helps for the preacher and interpreter from within the Reformed tradition.
With Logos Bible Software, these valuable volumes are enhanced by cutting-edge research tools. Important terms link to dictionaries, encyclopedias, and a wealth of other resources in your digital library. Powerful topical searches help you find exactly what you're looking for. Tablet and mobile apps let you take the discussion with you. With Logos Bible Software, the most efficient and comprehensive research tools are in one place, so you get the most out of your study.
Key Features
Utilizes writings of Church Fathers to guide modern preachers
Focuses on Christ in the Old Testament
Assists teachers of the Word with connecting their sermons to a life with Christ
Individual Titles
This primer on the ministry of preaching connects reading the Bible theologically with preparing and preaching sermons. Leading theologian Hans Boersma explains that exegesis involves looking beyond the historical and literal meaning of the text to the hidden sacramental reality of Christ himself, which enables us to reach the deepest meaning of the Scriptures. He provides models for theological sermons along with commentary on exegetical and homiletical method and offers guidance in placing the focus on Christ in all our reading of the Scriptures. Boersma also shows how patristic exegesis is relevant for reading the Bible today.
Sacramental Preaching will be of use to professors and students in homiletics and hermeneutics courses as well as pastors and seminarians. Readers interested in theology and theological interpretation will also appreciate this work.
'Happiness and heaven are tied together' and the knot is Christ. This is the essential theme of this imaginative and theologically powerful book. This collection of sermons represents Boersma's mature theology. I highly recommend it to all pastors and laity. It is a treasure.
—Stanley Hauerwas, professor emeritus of divinity and law, Duke Divinity School
Hans Boersma bridges from the church fathers to modern churchgoers with a sure hand and a well-lit vision. The fathers have something to teach us about sermons as a means of grace, and Boersma delivers their goods with great homiletical skill and wisdom. More, he has savvy aplenty for listeners today. Like a concert violinist's tone, Boersma's preaching has both core and sheen—in other words, real beauty. I find it inspiring.
—Cornelius Plantinga Jr., president emeritus, Calvin Theological Seminary; author of Reading for Preaching
This work argues that the heart of patristic exegesis is the attempt to find the sacramental reality (real presence) of Christ in the Old Testament Scriptures. Leading theologian Hans Boersma discusses numerous sermons and commentaries of the church fathers to show how they regarded Christ as the treasure hidden in the field of the Old Testament and explains that the church today can and should retrieve the sacramental reading of the early church. Combining detailed scholarly insight with clear, compelling prose, this book makes a unique contribution to contemporary interest in theological interpretation.
This volume makes an outstanding contribution to the retrieval of the ancient Christian biblical hermeneutic. Through a careful analysis of individual texts, Boersma demonstrates that patristic exegesis is not based on naive allegorizing but on a theology of history in which Christ is recognized as truly present in the words and deeds of the old covenant. This book will reinforce the growing consensus that patristic exegesis remains valid and indispensable for the church today.
—Mary Healy, professor of Sacred Scripture, Sacred Heart Major Seminary
Biblical exegesis has to be approached amid metaphysical and spiritual commitments attuned to the gospel or else unexamined assumptions will invariably cause even our most disciplined efforts at biblical interpretation to unravel. Hans Boersma helps us think carefully about how we read the Bible by reintroducing us to patristic exegesis. Alerting us to the exegetical practice of Origen, Gregory, and many others, he reminds us that 'they saw the Scriptures as a sacrament and read them accordingly.' For sensitive readings of varied early church fathers and a host of their reading approaches, all rooted in common commitments to the relations of God and the world and of theology and spirituality, take up and read Boersma's book.
—Michael Allen, associate professor of systematic and historical theology, Reformed Theological Seminary, Orlando
About Hans Boersma
Hans Boersma (PhD, University of Utrecht), a highly regarded theologian and an experienced preacher, is J.I. Packer Professor of Theology at Regent College in Vancouver, British Columbia. He is the author of numerous critically acclaimed books, including Violence, Hospitality, and the Cross: Reappropriating the Atonement Tradition; Sacramental Preaching; Nouvelle Théologie and Sacramental Ontology: A Return to Mystery; and Heavenly Participation: The Weaving of a Sacramental Tapestry. He is also coeditor of The Oxford Handbook of Sacramental Theology.