Leadership: Foundational Certificate Program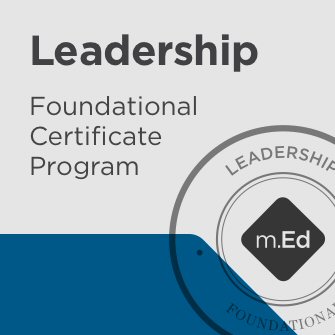 Overview
Through the Leadership: Foundational Certificate Program you will gain a firm understanding of Christian ministry leadership. You'll learn how to apply key frameworks to self-leadership, leading individuals, team leadership, and organizational leadership. You'll also focus on the practical dynamics of transformational leadership and biblical-theological principles for both healthy teams and healthy team leadership. These courses will help you identify challenges that often arise in leadership and how to determine solutions for moving toward a shared goal.
How to Apply for a Mobile Ed Certificate of Completion
Complete all Mobile Ed courses in this certificate program. This involves viewing all videos and taking all quizzes.
Write a 750-word response on any topic covered for each course in the certificate program. Post your response to the appropriate Faithlife group in the comments section. Search course code here to find group.
Email certificate@faithlife.com once you have completed all videos and quizzes and have posted responses in the appropriate Faithlife group for each Mobile Ed course in the certificate program. Please include your full name, title of completed certificate program, and links for each Faithlife group post in your email.
Our certificate program team will review the application and email the Certificate of Completion once you have completed all requirements. Please allow 7–10 business days for review.
In LD101, Dr. Irving introduces the critical subject of ministry leadership. Effective leadership is an essential component of any healthy organization, but what makes ministry leadership unique? In addition to providing surveys of contemporary leadership theories and obstacles to effective leadership, Dr. Irving explains the uniquely Christian approach to leadership, offering biblical examples from both the Old Testament and the New Testament. This course also demonstrates how the radical nature of servant leadership can transform your ministry.
Contents:
Introduction
Unit 1: Christian Leadership
Why Leadership? Why Now?
What Is Christian Leadership?
The Example of Servant Leadership
The Power of Servant Leadership
Considering Godly Leaders
Joshua: Leadership in Early Life
Joshua: Tested and Proven Leadership
Joshua: Called and Courageous Leadership
Joshua: Failure in Leadership
Joshua: A Leader's Legacy
Leadership and Management
Vision Casting
Vision: Destination and Path
Understanding Our Times
Cultural Dimensions
Cultural Differences
Unit 2: Frameworks for Ministry Leadership
Purpose in Leadership
Holistic Leadership
Focusing on Goals
Focusing on Followers
A Biblical Model of Servant Leadership
Contemporary Models of Servant Leadership
Leading from the Inside Out
A Model for Servant Leadership: Begin with Authentic Leaders
A Model for Servant Leadership: Understand the Priority of People
A Model for Servant Leadership: Help Followers Navigate toward Effectiveness
Servant Leadership: John 13
Focusing on Purpose
Unit 3: Self-Leadership
Biblical Foundations for Self-Leadership
Values and Virtues
The Dark Side of Leadership
Leadership Emergence Theory
Self-Differentiation and Resiliency
Prioritizing Goals
Handling Conflict
Emotional Intelligence
Dimensions of Emotional Intelligence
Understanding Myers-Briggs Personality Types
Strengths-Based Leadership Instrument
Unit 4: Leading Individuals
Historical Survey of Leadership Theories
Contingency and Situational Leadership
Other Types of Leadership
Unit 5: Leading Teams and Groups
Shared Leadership
Teams and Groups
Effective Team Members
Effective Team Relationships
Effective Team Development
Effective Team Leaders
Effective Team Diagnosis
Team Dimensions and Dysfunctions
Unit 6: Leading Organizations
Introduction to Organizational Leadership
Attitudes and Approaches of Organizational Leaders: Theories X and Y
Attitudes and Approaches of Organizational Leaders: Theory Z
Adapting to Shifting Paradigms
Applying Systems Thinking to Organizational Leadership
Organizational Roles
Communication Competencies for Leaders
Level 5 Leadership
Origins of Level 5 Leadership
The Path to Excellence
Leading as a Change Agent
Leadership in Emergent Self-Organization
Reimagining the Church
A Four-Frame Model of Organizations
Priority of Culture
Conclusion
Leading with Purpose
Course Summary and Challenge
Today's churches, parachurch organizations, and businesses require leadership that is transformational. In this course, Dr. Mark McCloskey, professor of transformational leadership at Bethel Seminary in St. Paul, explains his 4R model of transformational leadership. The model provides a biblical framework for leadership based on the cardinal virtues. Dr. McCloskey explores practical ways to use the 4R model in the process of learning, teaching, and practicing leadership. He shows how leaders can apply these lessons to a variety of leadership contexts. Even those who do not have formal leadership roles will find this course informative and practical as they influence churches and organizations where they are members.
Contents:
Introduction
Unit 1: Transformational Leadership Theory
Unit 2: A Theology of Transformational Leadership
Unit 3: Relationships
Unit 4: Roles
Unit 5: Responsibilities
Unit 6: Results
Unit 7: Application
Unit 8: Frequently Asked Questions
Summary and Conclusion
This course is not yet complete, but will be downloaded once it is produced.
In LD201, Dr. Irving uses a threefold foundation for leading teams and groups in ministry: team-based leadership is grounded in biblical and theological principles, it is culturally relevant, and it is practically relevant. This biblical approach to team-based leadership offers a survey of contemporary literature findings for conducting effective team leadership, helping you identify not only the challenges that often arise in team settings, but also how to determine solutions for moving toward a shared goal.
Contents:
Introduction
Introducing the Speaker and the Course
Critical Questions for the Course
Unit 1: Why Team Leadership?
An Important Conversation
Team Challenges
Team Benefits: Part 1
Team Benefits: Part 2
Speed versus Quality
Unit 2: Biblical and Theological Foundations of Team Leadership
Centralized versus Decentralized Leadership
Decentralized Leadership
Decentralized Leadership in Leadership Studies
Decentralized Leadership in Leadership Literature
Decentralized Leadership in the New Testament Church: Part 1
Decentralized Leadership in the New Testament Church: Part 2
Expressions of Decentralization in the Church: Part 1
Expressions of Decentralization in the Church: Part 2
Consensual Decision-Making: Part 1
Consensual Decision-Making: Part 2
Reasons for Decentralization: The Christological Message
Reasons for Decentralization: The Trinitarian God
Reasons for Decentralization: Familial Ecclesiological Metaphors
Reasons for Decentralization: Corporal Ecclesiological Metaphors
Decentralization: Summary
Unit 3: Cultural Relevancy of Team Leadership
The Dimensions of Principle and Style
Dominant Worldview Perspectives
The Postmodern Opportunity
Cultural Shifts: Relational and Person-Oriented Themes
Cultural Shifts: Missional and Dynamic Themes
Cultural Shifts: Incarnational and Informal Themes
Rooted and Relevant
Unit 4: Pragmatic Effectiveness of Team Leadership
Team Health
Groups versus Teams
The Different Team Types
Team Effectiveness
Larson and LaFasto on Team Structure and Standards
Criteria for an Effective Team
Performance Characteristics of Highly Effective Teams
Components of Effective Teams
Characteristic Keys to an Effective Team
Characteristics of a Well-Functioning Team
Servant Leadership: Part 1
Servant Leadership: Part 2
Unit 5: Healthy Teams
Factors of Healthy Team Members: Part 1
Factors of Healthy Team Members: Part 2
Factors of Healthy Team Members: Part 3
Factors of Healthy Team Members: Part 4
Healthy Team Relationships
Three Questions Regarding Team Health: Behaviors
Three Questions Regarding Team Health: Greatest Challenges
Three Questions Regarding Team Health: Sustaining Collaboration
Models for Team Feedback
Personality Types
Performance and Community in the Team Context
Team Citizenship Behavior
The Fundamentals of Team Development
The Team Performance Model
Concerns People Bring to Teams
Team Building
The Roles of Team Members: Task Roles
The Roles of Team Members: Social Roles and Dysfunctional Roles
The 4-R Model of Transformational Leadership
Healthy Team Problem-Solving
Values of Problem-Solving Teams
A Model of Team Problem-Solving
Communication and Team Problem-Solving
Crucial Conversations: Part 1
Crucial Conversations: Part 2
Crucial Conversations: Part 3
Crucial Conversations: Part 4
Healthy Team Collaboration
Global Perspective and Intercultural Competence for Teams
Global Studies in Leadership
Unit 6: Healthy Team Leadership
The Role of the Leader: Part 1
The Role of the Leader: Part 2
The Role of the Leader: Part 3
The Leader's Effect on Teams
A Model for Team Leadership
Dimensions of Team Leadership: Part 1
Dimensions of Team Leadership: Part 2
External Leadership
Team Member Expectations of Leaders
Leader Expectations of Team Members
The Positive Impact of Servant Leadership
Unit 7: Healthy Team Organizational Context
The Organizational Environment
Organizational Processes and Practices
Teams in Practice
Rules for Team Participation
The Church and Team Leadership
Leadership Trends in the Church
Team Playbook and Multi-Staff Models
Why Churches Might Not Use Team Leadership
Team Leader Strategies for Motivation and Development
Patrick Lencioni's Rubric for Meetings
Team Dysfunction
Conclusion
Biblical Affirmations of Teams
Summary of Team Leadership in the Church
Product Details
Title: Leadership: Foundational Certificate Program
Publisher: Lexham Press
Publication Date: 2017
Product Type: Logos Mobile Education
Resource Type: Courseware, including transcripts, audio, and video resources
Courses: 3
Video Hours: 29
Getting the most out of Mobile Ed
Logos Mobile Education is a highly effective cross-platform learning environment that integrates world class teaching with the powerful study tools and theological libraries available in Logos Bible Software. Every course provides links to additional resources and suggested readings that supplement the lecture material at the end of every transcript segment.
All courses in this bundle come with an Activities resource that functions as a type of "workbook" for the courses. This resource includes learning activities such as: places for you to respond to reflection questions, exercises that will challenge and show you how deepen your understanding of this course by using specific Logos tools and resources, tutorial videos on different features of Logos Bible Software, and links to relevant Logos guides and tools. A link to open the Activities resource is conveniently placed at the end of every segment.
More details about these resources
Show More