The Concept of Woman, volume III: The Search for Communion of Persons 1500-2015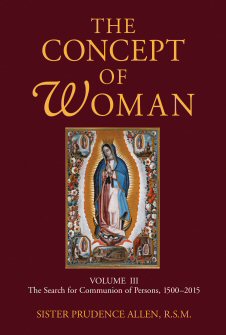 The Concept of Woman, volume III: The Search for Communion of Persons 1500-2015
•
Runs on Windows, Mac and mobile.
Your Custom Discount
Reg. Price $49.99
Sale Price $34.99
Your Price $34.99
You Save $15.00 30%
Your Price
What's Pre-Pub?
$34.99
Reg.: $49.99
Print: $55.00
Overview
The culmination of a lifetime's scholarly work, this pioneering study by Sister Prudence Allen traces the concept of woman in relation to man in Western thought from ancient times to the present. In her third and final volume Allen covers the years 1500–2015, continuing her chronological approach to individual authors and also offering systematic arguments to defend certain philosophical positions over against others.
Building on her work from Volumes I and II, Allen draws on four "communities of discourse"—Academic, Humanist, Religious, and Satirical—as she traces several recurring strands of sex and gender identity from the Renaissance to the present. Now complete, Allen's magisterial study is a valuable resource for scholars and students in the fields of women's studies, philosophy, history, theology, literary studies, and political science.
In the Logos edition, this volume is enhanced by amazing functionality. Important terms link to dictionaries, encyclopedias, and a wealth of other resources in your digital library. Perform powerful searches to find exactly what you're looking for. Take the discussion with you using tablet and mobile apps. With Logos Bible Software, the most efficient and comprehensive research tools are in one place, so you get the most out of your study.
Click here for more information on The Concept of Woman, volume 1.
Click here for more information on The Concept of Woman, volume 2.
Key Features
Traces the concept of woman in relation to man in the history of Western philosophy
Argues for positions by appealing to the evidence of the senses and reason
Compares and contrasts arguments from different philosophical communities
Contents
Chronological Tables
Illustrations
List of Tables
Acknowledgements
Introduction
Method of Approach
The Meaning of Sex and Gender in This Book
Can Integral Gender Complementarity Be Proven?
Two Original Ideas Essential to Integral
First Developments of the Two Original Types with Preservation of Type, Continuity of Principles, and Assimilative Power of These Living Ideas
Conservative Action of Original Type on Its Past with Corruption Tending to Its Destruction Descripted in The Concept of Woman II
The Structure of Volume 3
Engendered Identities in Religious Events and Authors
Isabella of Portugal (1451-1504)
Two Religious Events at the Beginning of the Modern Era
Women in the Later Humanist Reformation
Women in the Counter-Reformation
Woman's Identity in Academic and Later Humanist Texts
The Beginning of Reverse Sex and Gender Polarity Arguments
Satires Consider Women, Masculinity, and Femininity
New Types of Satires about Women
Gender Identity and the Copernican Revolution in Macrocosm and Microcosm
Woman and Generation in the Macrocosm
Women and Generation in the Microcosm
The Cartesian Revolution in Sex and Gender Identity
Descartes and Women Philosophers
Effects of Cartesian Philosophy on the Concept of Woman
The Transcendental Argument against Descartes
Descartes' Complex Legacy for the Concept of Woman
Post-Cartesian Battle over Sex and Gender Identity
Post-Cartesian Rise of Fractional Complementarity with Hidden Polarity
Reform Critiques of Fractional Complementarity with Polarity
New Forms of Sex and Gender Polarity in the Fields of Psychology
New Vigor for the Living Idea of Integral Complementarity of Men and Women
True Development of Soul/Body Unity and Gender Complementarity
Sex and Gender Polarity and Ideology in Conflict with Integral Sex and Gender Complementarity
New Forms of Traditional and Reverse Sex and Gender Polarities
The Rise of Sex and Gender Ideologies
Gender Ideology Goes Viral
Mapping and Attacking the Gender Ideology Virus
Contributions to Twentieth and Twenty-First-Century Integral Gender Complementarity
Saint Karol Wojtyla/John Paul II: Founder of Integral Gender Complementarity
Karol Wojtyla (1920-1978): Philosopher of Integral Complementarity
John Paul II (1978-2005): Apostle of Integral Complementarity
Conclusion
Unisex Models in Conflict with "Soul/Body Composite Identity" of a Woman and a Man
Continuity in the Development of Integral Gender Complementarity
Preserve the Identity and Continuity of Principles in the Type from Beginning to End
Capacity for Assimilating Dogmatic Truth and Fidelity in Logical Sequential Development
Cartesian Sources of the Equality of Woman and Man in a Unisex Theory
Science and the Recovery of Aristotelianism/Thomism
The Carmelite Age in Contributions to the Concept of Woman
The Chronic Vigor of the Integral Complementarity of Woman and Man
Praise for the Print Edition
This book is a gift to the twenty-first century, given how much confusion remains over the meaning and value of being a woman! Nowhere else can a reader find a more thorough or intellectually rigorous examination of the concept of woman, in a text seamlessly integrating philosophy, theology, and culture.
—Helen M. Alvaré, George Mason University
A masterful culmination of Sister Prudence Allen's groundbreaking study of the concept of woman in the history of Western philosophy. This final volume is a rich, multi-layered work that explores the increasingly contentious issues of sex and gender from a wide range of illuminating perspectives. Allen continues to reward readers with the fruits of her painstaking research and insightful analysis, painting a sweeping, vivid picture of the currents and crosscurrents of arguments made by the most important (yet often unheralded) philosophers writing after 1500.
—Elizabeth R. Schiltz, University of St. Thomas School of Law
With this final piece of her magnificent three-volume work, Sr. Prudence Allen has bequeathed a masterpiece of fine historical research and deft philosophical reasoning which is both timely and timeless. Destined to be a classic in philosophical anthropology, sexual ethics, and gender studies, The Concept of Woman III is essential reading for those who wish to make their way through the crazed maze of gender politics today with the help of a solid philosophical articulation of the differences and complementarity of the sexes. Future generations will join me in praising this monumental work.
—Michele M. Schumacher, University of Fribourg
An excellent, dispassionate study of how human beings have thought about women over the centuries. Sister Prudence Allen is to be congratulated for making a serious contribution to our reflections on the concept of woman.
—Fr. Francis Martin, Dominican House of Studies, Washington, DC
Product Details
Title: The Concept of Woman, volume III: The Search for Communion of Persons 1500-2015
Author: Prudence Allen
Publisher: Eerdmans
Publication Date: 2017
Pages: 574
Christian Group: Catholic
Resource Type: Monographs
About Prudence Allen
Prudence Allen is professor of philosophy at St. John Vianney Theological Seminary. She has spent more than 25 years engaged in research on the concept of woman in relation to the concept of man in philosophy.
Sample Pages from the Print Edition