Bible Study Magazine—November–December 2016 Issue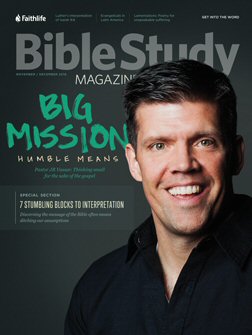 Bible Study Magazine—November–December 2016 Issue
Want more Bible Study Magazine? Subscribe today and get six issues per year for just $19.99—33% off the cover price!
Get Bible Study Magazine now by purchasing the November–December 2016 back issue for $3.95. That's 20% off the newsstand price of $4.95!
Bible Study Magazine is a print magazine (not an emagazine) published by Lexham Press. Six times a year, Bible Study Magazine delivers tools and methods for Bible study as well as insights from respected teachers, professors, historians, and archeologists.
Read pastor profiles, author interviews, and stories of individuals whose thoughtful engagement with Scripture has shaped their thinking and defined their ministries. Bible Study Magazine reveals the impact of God's Word in their lives—and the power of Scripture in yours.
There are a limited supply of back issues of the November–December 2016 Bible Study Magazine.
Each Issue of Bible Study Magazine Includes:
Feature Stories
Discover new ways to connect the Bible with your ministry and life through in-depth interviews and articles from the biggest names in the church and biblical scholarship.
Bible Study Tips
Explore the Word—thoughtful and engaging authors tackle the tough passages in Scripture, explain difficult concepts, and confront complex interpretations in a way that helps the Gospel make sense in your life.
On the Cutting Edge
Keep up to date on the latest news in biblical research, including archaeological and historical findings.
A New Kind of Bible Study
Encounter God by yourself or with other believers with an ongoing Bible study in each issue.
On Teaching
Get advice on how to preach or teach the Bible in any setting from well-known pastors and teachers who use the Bible every day.
Tool Box
Learn how to effectively use the latest Bible study tools with our how-to guides.
In the News
Keep informed about the latest news in biblically related topics, discoveries, and events.
Thoughts from the Ancients
Read the Bible together with those who have come before you, and learn from the wisdom of the early church—in its own words.
Word Studies
Get a close-up view of the Bible! Each issue contains insights about specific words found in the Bible and tutorials on how to do word studies.
If Only Someone Would Explain It to Me
Enrich your understanding of the Bible with explanations of biblical and theological concepts by top scholars.
Did You Know?
Discover interesting facts about the place of the Bible in the contemporary and the ancient world.
What They Don't Tell You in Church
See things you never noticed in biblical passages you have read dozens of times.
Biblical Humor
The funniest stories and the best comics related to the Bible, useful for any setting.
Book Reviews
Stay on top of the latest books about Bible study. Each issue contains reviews of books and commentaries to equip you in your study of God's Word.
Excerpts from the November–December 2016 Issue!
Big Mission, Humble Means: Pastor JR Vassar on Thinking Small for the Sake of the Gospel
Pastor JR Vassar believes that modern culture is enslaved to public opinion. Engaging this generation with the gospel involves reaching people who broadcast their lives on social media, often as a way of seeking validation.
—Jessi Strong
A Fragmented Faith: Latin American Evangelicals Struggle to Claim Their Theological Heritage
Evangelicals in Latin America have often been told that they have no tradition—that evangelicalism is a faith for missionaries and outsiders." That's how Daniel Salinas, a historical theologian from Colombia, describes the challenge facing many churches in the countries of Central and South America.
—Jessi Strong
Neglecting the Cultural Divide
British novelist L.P. Hartly famously wrote, "The past is a foreign country: they do things differently there." This certainly is true with respect to the Bible. The world of the first century, whether Jerusalem, Corinth, or Rome, is vastly different from the world we inhabit. If we want to understand the Bible correctly, then we must "mind the gap," as the trains in London say—the cultural gap between ourselves and the ancient world of the biblical authors and their audiences.
—Michael F. Bird
The Hard Road of Faith
In my experience, most people have two "come to Jesus" moments: One when they first believe, and a second when they decide to live self-sacrificially. Following my second moment, I sold most of my stuff (including my house), left a great job, and went into ministry as a nonprofit leader and missionary. But no matter how real that second "come to Jesus" moment is, when the chips are down, you often wonder "Where is Jesus in this?"
—John D. Barry