Bible Study Magazine—July–August 2016 Issue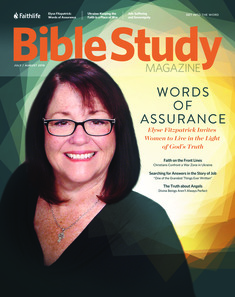 Bible Study Magazine—July–August 2016 Issue
Want more Bible Study Magazine? Subscribe today and get six issues per year for just $19.99—33% off the cover price!
Overview
Get Bible Study Magazine now by purchasing the July–August 2016 back issue for $3.95. That's 20% off the newsstand price of $4.95!
Bible Study Magazine is a print magazine (not an emagazine) published by Lexham Press. Six times a year, Bible Study Magazine delivers tools and methods for Bible study as well as insights from respected teachers, professors, historians, and archeologists.
Read pastor profiles, author interviews, and stories of individuals whose thoughtful engagement with Scripture has shaped their thinking and defined their ministries. Bible Study Magazine reveals the impact of God's Word in their lives—and the power of Scripture in yours.
There are a limited supply of back issues of the July–August 2016 Bible Study Magazine.
Each Issue of Bible Study Magazine Includes:
Feature Stories
Discover new ways to connect the Bible with your ministry and life through in-depth interviews and articles from the biggest names in the church and biblical scholarship.
Bible Study Tips
Explore the Word—thoughtful and engaging authors tackle the tough passages in Scripture, explain difficult concepts, and confront complex interpretations in a way that helps the Gospel make sense in your life.
On the Cutting Edge
Keep up to date on the latest news in biblical research, including archaeological and historical findings.
A New Kind of Bible Study
Encounter God by yourself or with other believers with an ongoing Bible study in each issue.
On Teaching
Get advice on how to preach or teach the Bible in any setting from well-known pastors and teachers who use the Bible every day.
Tool Box
Learn how to effectively use the latest Bible study tools with our how-to guides.
In the News
Keep informed about the latest news in biblically related topics, discoveries, and events.
Thoughts from the Ancients
Read the Bible together with those who have come before you, and learn from the wisdom of the early church—in its own words.
Word Studies
Get a close-up view of the Bible! Each issue contains insights about specific words found in the Bible and tutorials on how to do word studies.
If Only Someone Would Explain It to Me
Enrich your understanding of the Bible with explanations of biblical and theological concepts by top scholars.
Did You Know?
Discover interesting facts about the place of the Bible in the contemporary and the ancient world.
What They Don't Tell You in Church
See things you never noticed in biblical passages you have read dozens of times.
Biblical Humor
The funniest stories and the best comics related to the Bible, useful for any setting.
Book Reviews
Stay on top of the latest books about Bible study. Each issue contains reviews of books and commentaries to equip you in your study of God's Word.
Excerpts from the July–August 2016 Issue!
Elyse Fitzpatrick Invites Women to Live in the Light of God's Truth
Elyse Fitzpatrick developed a heart for ministry not because she had all the answers, but because she had a lot of questions. As a young woman with only a passing acquaintance with Christianity, Fitzpatrick says, her life was a train wreck when she came to Christ. 'I needed answers that would calm my own troubled heart. As a believer, as I saw how much help I needed, I began to see that there were a lot of other women out there who needed the same kind of help.'
—Jessi Strong
Keeping the Faith in a Place of War
All followers of Christ are called to forgive, but few are put to the test like Christians in war-torn countries. Ivan Rusyn, president of Ukrainian Evangelical Theological Seminary, says his country's prolonged conflict with Russia has given believers in Ukraine a new perspective.
—Jessi Strong
From Intercessors to Advocate
We seldom think of angels as intercessors, but the notion that they mediated between God and humans is an ancient one. The holy ones were part of God's assembled council (Psa 89:5–6; compare 82:1), which was conceived as a heavenly courtroom (Dan 7:10). Angels could even be called to testify before God and served to accuse, to plead on someone's behalf, or to pass judgment (Job 1:6–11; 11:7–10; 33:23–24).
—Michael S. Heiser
Twist of Faith: Irony in Job
Speaking at Julius Caesar's funeral, Mark Antony praised Brutus—Caesar's main assassin—for being an 'honorable man.' Asked about a popular restaurant, Yogi Berra replied, 'Nobody goes there anymore. It's too crowded.' Irony surrounds and entertains us. Biblical authors also loved to squeeze a twist into their writings. In the book of Job, we encounter three kinds of irony: verbal, situational, and dramatic.
—Greg Trull