Mobile Ed: CO201 Counseling for Marriages and Family (5 hour course)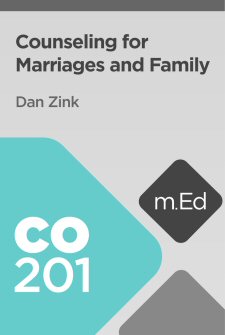 Mobile Ed: CO201 Counseling for Marriages and Family (5 hour course)
•
Runs on Windows, Mac and mobile.
Overview
Marriage counseling and working with families is one of the greatest things that we can do to help guide people toward Christ in their relationships. There is nothing more rich and rewarding than being able to spend a sacred moment with a couple and to help them turn around and get headed toward a better marriage, but it is also an arduous journey together. In CO201, Dr. Zink explores what a good marriage looks like and wrestles with understanding relationships more deeply. From premarital counseling to what marriage ministry in the church looks like, Dr. Zink demonstrates how you can be a better counselor to couples.
Learning Objectives
Upon successful completion you should be able to:
Understand the basis for what a good marriage looks like
Analyze key marital issues
Explore seven critical conversations for couples
Explain how churches can be impactful in marital counseling
Course Outline
Unit 1: The Good Marriage
What Is Marriage?
Marriage Is a Special Relationship
Marriage Has a Unique Foundation
Marriage Has a Unique purpose
Marriage Has a Unique Goal
Marriage Is a Uniquely Intense Reality
Unit 2: Understanding Relationships
Using Systems Theory to Understand Relationships
Understanding Connection
Differentiation of Self: Part 1
Differentiation of Self: Part 2
Steps to Grow Differentiation
Over-Functioning and Under-Functioning
Understanding Relationship Position
Relationship Triangles
Family Secrets
Thinking Systems, Watching Process
Unit 3: Issues
Common Issues Reconsidered
Conflict
Sexual Issues
Infidelity
Unit 4: Premarital Counseling
Dating: Part 1
Dating: Part 2
Premarital Counseling: Part 1
Premarital Counseling: Part 2
Developing a Marriage Mission Statement
Unit 5: Approaches to Helping
Framework for Couples' Counseling: Part 1
Framework for Couples' Counseling: Part 2
Seven Conversations: Four
Seven Conversations: One
Seven Conversations: Two and Three
Seven Conversations: Five
Seven Conversations: Six and Seven
Unit 6: Marriage Ministry in the Church
How Can Churches Serve Marriages?
Counseling as a Couple
Surviving as a Marriage Counselor
Product Details
Title: CO201 Counseling for Marriages and Family
Instructor: Dan Zink
Publisher: Lexham Press
Publication Date: 2016
Product Type: Logos Mobile Education
Resource Type: Courseware, including transcripts, audio, and video resources
Courses: 1
Video Hours: 5
About the Instructor
Dan Zink joined the full-time faculty of Covenant Theological Seminary in 1995 after serving for five years as adjunct professor in counseling and director of student services and for eleven years as a family counselor, case-worker, and supervisor of public children's services. In addition to his teaching responsibilities, Dr. Zink was the founding director and a five-year head of New Hope Counseling Services, a ministry of Chesterfield Presbyterian Church in Missouri. He has also been involved in the Christian education programs of four churches and has served as an assistant pastor. His doctoral research focused on marriages of adult children of divorce. Dr. Zink and his wife, Carolanne, have two children.
Getting the most out of Mobile Ed
Logos Mobile Education is a highly effective cross-platform learning environment that integrates world class teaching with the powerful study tools and theological libraries available in Logos Bible Software. Every course provides links to additional resources and suggested readings that supplement the lecture material at the end of every transcript segment.
This course comes with an Activities resource that functions as a type of "workbook" for the course. This resource includes learning activities such as: places for you to respond to reflection questions, exercises that will challenge and show you how deepen your understanding of this course by using specific Logos tools and resources, tutorial videos on different features of Logos Bible Software, and links to relevant Logos guides and tools. A link to open the Activities resource is conveniently placed at the end of every segment.
More details about these resources