Religious Liberty Collection (2 vols.)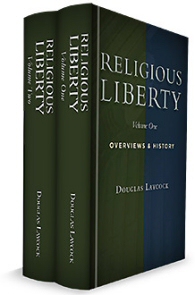 Religious Liberty Collection (2 vols.)
•
Runs on Windows, Mac and mobile.
Your Custom Discount
Reg. Price $62.95
Pre-order Price $44.95
Your Price $44.95
You Save $18.00 28%
Your Price
What's Pre-Pub?
$44.95
Reg.: $62.95
Print: $76.00
Overview
The Religious Liberty Collection (2 vols.) is intended to foster exploration of the religious dimensions of law, the legal dimensions of religion, and the interaction of legal and religious ideas, institutions, and methods. Written by one of the most respected and influential scholars of religious liberty in our time, Douglas Laycock has argued many crucial religious liberty cases in the U.S. appellate courts and Supreme Court. His noteworthy scholarly and popular writings help meet the growing demand for literature in the burgeoning interdisciplinary study of law and religion.
The first volume, Overviews and History, gives the big picture of religious liberty in the United States, fitting a vast range of disparate disputes into a coherent pattern—from public school prayers to private school vouchers to regulation of churches and believers. Laycock's clear overviews provide the broad, historical, and helpful context often lacking in today's press.
The second volume, The Free Exercise Clause, includes articles, amicus briefs, and court documents relating to regulatory exemptions under the Constitution, the right to church autonomy, and the rights of non-mainstream religions. Dealing with religious schools and colleges, sexual abuse cases, the rights of Hare Krishnas and Scientologists, the landmark decision Employment Division v. Smith, and more, this will be a valuable reference for churches, schools, and other religious organizations as they exercise their constitutionally protected freedom.
Key Features
Illuminates major religious liberty issues from both theoretical and practical perspectives
Includes both scholarly articles and key legal documents
Unique in the depth and range of its coverage
Praise for the Print Edition
The church-state field is blessed with serious scholars, persuasive advocates, dynamic teachers, astute political strategists, and public commentators. Douglas Laycock is one of a very few who are all of these. I welcome this multivolume collection of his always insightful and lucid writings—from scholarly law review articles to USA Today op-ed pieces. Even those who may disagree with Laycock's interpretation and application of the First Amendment's religion clauses will be hard pressed to gainsay these sentiments.
—J. Brent Walker, Executive Director, Baptist Joint Committee for Religious Liberty
Any person who cares about religious liberty in America (and we should all be greatly concerned about its increasingly fragile condition) needs to read Douglas Laycock. Anyone who wants to understand the religious liberty battles being fought in today's legislatures, courts, culture, and media will be enlightened by reading even one of the articles in this book. . . . These writings are lucid and compelling, completely accessible to every reader — lawyer or not, academic or not, religious or not. Doug has the gift for taking complex ideas and making them elegantly simple but never simplistic.
—Kim Colby, Senior Legal Counsel, Center for Law & Religious Freedom
A must for academic and law-school libraries. . . . A treasure trove of information for those who teach or practice church-state law.
—Voice of Reason
Individual Titles
Religious Liberty, vol. 1: Overviews and History
Author: Douglas Laycock
Publisher: Eerdmans
Publication Date: 2010
Pages: 888
Contents include:
Foreword, by John Witte, Jr.
Part One: Overviews
A. Normative Overviews
B. Analytic and Descriptive Overviews
C. Book Reviews
D. Judicial Nominations
Part Two: History
Part Three: Appendices
Index
Religious Liberty, vol. 2: The Free Exercise Clause
Author: Douglas Laycock
Publisher: Eerdmans
Publication Date: 2011
Pages: 871
Contents include:
Introduction: The Free Exercise of Religion
Part One: Regulatory Exemptions Under the Constitution
A. Constitutional Exemptions Before Smith
B. Constitutional Exemptions After Smith
Part Two: The Right to Church Autonomy
A. The General Theory
B. The Rights of Religious Employers
C. The Rights of Religious Schools and Colleges
D. The Rights of Religious Counselors
E. The Sexual Abuse Cases
Part Three: The Rights of Non-Mainstream Religions
Index
Product Details
Title: Religious Liberty Collection
Author: Douglas Laycock
Publisher: Eerdmans
Volumes: 2
Pages: 1,759
About Douglas Laycock
Douglas Laycock is the Armistead M. Dobie Professor of Law at the University of Virginia Law School, the Alice McKean Young Regents Chair in Law Emeritus at the University of Texas, a fellow of the American Academy of Arts and Sciences, and the 2009 winner of the National First Freedom Award.