Teacher to preacher? Logos announces winner of $20,000 Doctor of Ministry scholarship
NEWS RELEASE
Wisconsin teacher, chosen from more than 25,000 applications for Haddon Robinson Scholarship, will attend Knox Theological Seminary on Logos' dime
BELLINGHAM, Wash., July 17, 2012 — Selected from 25,000-plus entries, Madison, Wisconsin, resident Stephen L. Kolk will earn his Doctor of Ministry at Knox Theological Seminary free of charge after winning Logos Bible Software's Haddon Robinson Scholarship, valued at more than $20,000. The 12-year Logos user will be hitting the ebooks yet again while earning his prestigious degree — mostly in the comfort of his own home.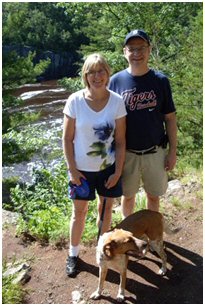 "The Dr. Haddon Robinson DMin Scholarship excites me as I think about what I could do with it and how I could use it to build, expand and apply my knowledge of Logos software," said Kolk. "My wife and I talked about it, and she thinks this wonderful gift is something that suits my abilities and passions."
Having already served as a youth leader, deacon, treasurer and elder with the Christian Reformed Church, Kolk is ready to advance to the next chapter of his ministry as he earns his Doctor of Ministry in Preaching and Teaching. The '76 Calvin College grad currently teaches at High Point Church in Madison, but he will soon broaden his biblical knowledge from the other side of the lectern. Kolk's wife of 36 years, Trudi, and their two grown sons are excited by the new opportunities opened up through the scholarship.
Besides covering nearly $15,000 in tuition and fees, Logos is also providing Kolk with not only the nearly $4,300 Portfolio Edition library (worth nearly $30,000 in print), which includes more than 1,600 digital books, but also a $1,000 Logos ebook credit. Portfolio taps into Logos 4's powerful digital Bible-study tools and tens of thousands of Christian ebooks.
Founded by Dr. D. James Kennedy of Coral Ridge Ministries (now Truth in Action Ministries) in 1989 as an independent evangelical seminary equipping students across denominations, Knox has partnered with Logos to offer a unique Doctor of Ministry in Preaching and Teaching. The Ft. Lauderdale, Fla.–based program offers a mixture of on-campus and online instruction, integrating top Bible scholars' refined theology with the most technologically advanced curriculum available.
Click here to learn more about earning a DMin at Knox; for more information about Logos 4, click here.
The Doctor of Ministry in Preaching and Teaching from Knox Theological Seminary and Logos Bible Software is a one-of-a-kind program that equips ministry leaders with first-rate theology and first-class technology. This DMin's curriculum is based in Logos Bible Software and delivered by some of the world's foremost Bible scholars.
Logos is the leading provider of multilingual tools and resources for Bible study on Macs, PCs and mobile devices. Logos has served pastors, scholars and everyone who wants to study the Bible since 1992, partnering with 150 publishers to offer more than 27,000 Christian ebooks to users in 210 countries.
Contact Logos Media Relations at 800-875-6467 or media@logos.com, or visit www.logos.com/press