$25,000 Billy Graham, $18,000 John Piper scholarships from Knox
NEWS RELEASE
Knox Theological Seminary, Logos Bible Software pave free roads to DMin, M.A. in Biblical & Theological Studies degrees
BELLINGHAM, Wash., November 27, 2012 —Billy Graham and John Piper, two of our time's most acclaimed American evangelists, are partnering with Knox Theological Seminary and Logos Bible Software to offer comprehensive master's and doctoral scholarships worth $25,000 and $18,000, respectively. The Billy Graham Scholarship for the online Master of Arts (Biblical and Theological Studies) and the John Piper Scholarship for the Doctor of Ministry in Preaching and Teaching cover tuition, fees and a Logos 5 Portfolio package with thousands of digital Bible study resources.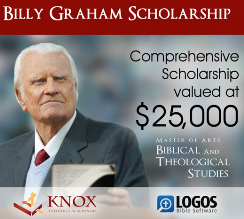 "Knox Seminary's commitment[s] to being Christ-centered, Gospel-driven, and mission-focused have all been characteristics that have marked my grandfather's ministry for over 60 years," says Billy Graham's grandson, Tullian Tchividjian, pastor of Coral Ridge Presbyterian Church in Ft. Lauderdale, Fla.
The Billy Graham Scholarship is named after America's most respected evangelist, whose ministry began in 1947 and included more than 400 crusades across 185 countries and territories on six continents. He founded the Billy Graham Evangelistic Association. To enter to win the Billy Graham Scholarship, applicants must meet the MABTS program's academic requirements.
The MABTS is a 60-credit program designed for those desiring to pursue their graduate studies in biblical exegesis and theology with an emphasis on Old or New Testament.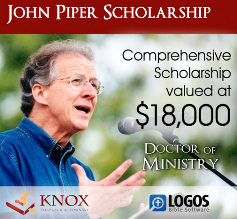 The John Piper Scholarship is named after America's most acclaimed Gospel-driven Reformed preacher, who currently serves as the pastor of Bethlehem Baptist Church in Minneapolis, Minn. He is the founder of Desiring God Ministries. All who meet the DMin's admission requirements can apply.
The DMin in Preaching and Teaching is a professional program for pastors, missionaries and others actively engaged in ministry. It focuses on Christ-centered Bible interpretation and unfolds the story of individual Bible texts, helping students focus on the "big idea" and articulate it to their congregations.
The one-of-a-kind MABTS and DMin programs equip ministry leaders with first-rate theology and first-class technology. Curriculum for each is based in Logos Bible Software and delivered by some of the world's foremost Bible scholars.
To apply for the Billy Graham Scholarship, click here; to apply for the John Piper Scholarship, click here
Knox and Logos are giving away $1.6 million through the Digital Scholar's Fund. The first 100 qualified students to apply for and enroll in the MABTS' spring 2013 semester will win partial scholarships worth more than $2,500.
Logos Bible Software is the leading provider of multilingual tools and resources for Bible study on Macs, PCs and mobile devices. Logos has served pastors, scholars and everyone who wants to study the Bible since 1992, partnering with 150 publishers to offer more than 31,000 Christian ebooks to users in 210 countries.
Contact Logos Media Relations at 800-875-6467 or media@logos.com, or visit www.logos.com/press
Last Updated: 9/4/2013