Press Release
Contact: Phil Gons (360) 685-2314, Dan Pritchett (360) 685-2335
Logos Bible Software to Host BibleTech:2008 Conference in Seattle
BELLINGHAM, WA–September 18, 2007–To encourage the best and most innovative uses of technology in Bible study, Logos Bible Software will sponsor BibleTech:2008 in Seattle, WA on January 25-26, 2008. The conference will be held at the Hilton Seattle Airport and will explore the intersection of Bible study and technology.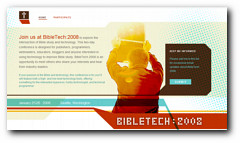 As the BibleTech:2008 website states, "This is an exciting time for Bible technology!"
More than 20 speakers will present their projects and ideas – which range from web-based Christian communities to advanced software programming. Some of the key presenters at BibleTech:2008 include Dr. Reinier de Blois, editor of the United Bible Society's Semantic Dictionary of Biblical Hebrew, and Zack Hubert, creator of The Resurgence Greek Project and Pastor of Technology at Mars Hill Church in Seattle. A list of all the speakers and their topics can be found at http://www.bibletechconference.com/speakers.htm.
In light of the diversity of topics BibleTech:2008 will offer two session streams. One stream will be presented for a lay audience and another will cater to attendees with advanced knowledge of computer sciences.
The conference is more than just a chance to listen to lectures. "We hope the BibleTech attendees will be encouraged by the interaction with other Christians who are working hard wherever the Bible and technology meet." said Logos CEO Bob Pritchett. "The conference will be as much a networking opportunity as an educational one."
About Logos Bible Software
Logos Bible Software, a privately held corporation located in Bellingham, Wash., is the leading publisher of high-end, award-winning, multilingual Bible software. The company serves church, academic and lay markets, striving to bring the best in software innovation to Christians worldwide. See http://www.logos.com/