Logos Bible app gets even better
NEWS RELEASE
Logos Bible Software's improved Bible app adds Community Notes, reading plans, split-screen reading, more
BELLINGHAM, Wash., September 18, 2012 — Logos Bible Software continues to build all-new advanced tools into its free Bible app. For iPhone and iPad users, this means customizable reading plans, Community Notes, split-screen viewing and more media. Readers on Android-enabled devices can now enjoy notes and highlighting, as well as a language tool. And all Bible app users, including those on Macs, PCs, and Kindle Fires, will appreciate the new homepage navigation and design.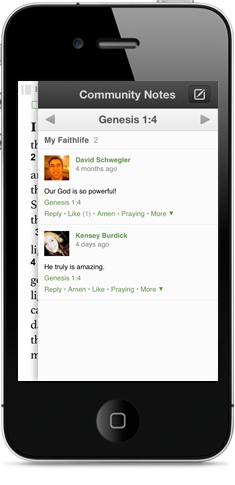 "This mobile app lets you access a massive library of digital resources and study tools," says Logos President/CEO Bob Pritchett. "No matter where you go, your library and study notes are with you."
The latest version of Logos' app is a step up for groups and individual users alike. With Community Notes, readers can share verse-by-verse thoughts and comments within the Faithlife community, Logos' new social network. Users can customize reading plans with versatile templates to keep personal and group Bible studies on schedule.
Split-screen viewing lets users read secondary texts side by side with the Bible, with both panels scrolling in sync. Highlighting puts 80-plus colors and symbols at readers' fingertips. The languages feature gives access to the Bible's original Greek and Hebrew with a simple tap-and-hold on any word. With word studies, users can explore the original languages with links to dictionaries, lexicons and cross-references that let them compare Bible translations.
Included with the free app are 44 digital resources; with a free Logos account, readers unlock 25 more. The Logos 4 ecosystem gives access to 29,000-plus electronic Christian resources and dozens of advanced Bible study tools.
For more information on Logos' Bible apps, click here
Logos Bible Software is the leading provider of multilingual tools and resources for Bible study on Macs, PCs and mobile devices. Logos has served pastors, scholars and everyone who wants to study the Bible since 1992, partnering with 150 publishers to offer more than 29,000 Christian ebooks to users in 210 countries.
Contact Logos Media Relations at 800-875-6467 or media@logos.com, or visit www.logos.com/press