Hispanic Pentecostal pastors get full digital training
NEWS RELEASE
Logos Bible Software Español, Global University partner to launch 27 smart ebook courses for Berean School of the Bible
BELLINGHAM, Wash., September 9, 2012 — Global University, an accredited distance university of the Assemblies of God, and Logos Bible Software Español, the leading provider of multilingual tools and resources for Bible study, have launched the Colección de Cursos Berea (Berean Digital Collection), an educational resource designed to train Hispanic ministers from a Pentecostal perspective.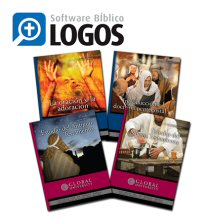 "We are very pleased to be working in ministry together with Logos Bible Software," says Dr. Gary L. Seevers Jr., president of Global University. "I believe that every pastor, leader and church volunteer will receive a superior educational experience as a result of studying our curriculum with this modern tool."
Through this partnership, all three levels — Certificate, License and Ordination — of Berean School of the Bible's ministerial studies program meet in Logos' robust digital Bible study library. Written by respected, Spirit-filled scholars, the curriculum addresses pastoral topics with Pentecostal principles through 27 specialized courses, among them "Introduction to Pentecostal Doctrine," "Assemblies of God History, Missions and Government," "Effective Leadership," "Prayer and Worship," "Preaching in the Contemporary World" and "Pastoral Ministry." More than a third of the Assemblies of God ministers have used these courses for their credential requirements.
The Berean Digital Collection offers extraordinary advantages that allow each student to learn faster and retain more. "It has a navigational tool bar to easily access each chapter, unit and lesson for each course," explains Tony Segar, director of Logos Bible Software Español. "By placing the cursor above any Bible reference, the user can read the Bible passage from his/her favorite translation. Each student also receives immediate test results with direct links to the section of each lesson that has the correct answer."

According to Dr. Randy Hedlun, dean of Berean School of the Bible, the Berean Digital Collection is a fantastic tool because it allows the student to immediately cross-reference concepts, terms and biblical truths.
The Berean Collection also allows students to interact seamlessly with any Logos base package on Mac or PC, adding the commentaries, dictionaries, lexicons and manuals most frequently recommended in seminary classrooms. Pastors and Christian leaders get, at their fingertips, a portable, searchable, inexpensive library closely matching leading theological schools' collections.
Learn more about Logos' Berean collection here
Logos Bible Software is the leading provider of multilingual tools and resources for Bible study on Macs, PCs and mobile devices. Logos has served pastors, scholars and everyone who wants to study the Bible since 1992, partnering with 150 publishers to offer more than 29,000 Christian ebooks to users in 210 countries.
Global University is a regionally and nationally accredited nonprofit Christian university, in the Pentecostal tradition, based in Springfield, Missouri. A worldwide online and distance education pioneer, the university integrates education and service through a network in 150 countries. For more information about Global University, click here
Contact: Ivan Leon, Logos Spanish marketing manager, (360) 398-5185 or medios@logos.com
Contact: Roberto Ponce, Global University director of marketing, (417) 862-9533 ext. 2714 or rponce@globaluniversity.edu