Late author achieves lifelong goal with posthumous novel
NEWS RELEASE
Kirkdale Press publishes Arizonan professor's novel, 'The Church Sign'
BELLINGHAM, Wash., September 6, 2012 — It's never too late to become a published author. Writer and distinguished professor Dr. Anne Robey-Graham passed away in December 2011, but today, Kirkdale Press is publishing her debut novel, The Church Sign, with great expectations.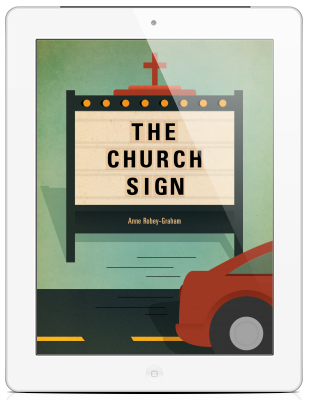 When asked what some of her life goals were, Dr. Robey-Graham responded that she "would like to make a difference in people's lives and leave a lasting legacy." She'll achieve that goal with Kirkdale's release of The Church Sign.
"Anne was a joyful, encouraging woman, and one of my favorite authors to work with," says Kirkdale Press director Ryan Rotz. "She had 30 years of ministry experience and 20 years in higher education—and was still teaching. She loved to inspire people. Writing a book was just another way of doing that."
The Church Sign is a story about a woman unable to forgive herself for past mistakes. At pivotal points in her life, she finds herself confronting that past over and over through encounters with strangely personal church signs, which she comes to understand as messages from God.
"The Church Sign reveals [Dr. Robey-Graham's] graceful creativity and keen insight into life, qualities we used to drink in deeply while we had the chance," says the author's widower, Dr. Gordon Graham. "We are left with many robust memories of her joyful spirit and indomitable optimism, and when we think of her, we do so with deep respect."
For more information on Dr. Anne Robey-Graham and The Church Sign, click here
Kirkdale Press is a digital publishing imprint from Logos Bible Software. Publishing new voices in Christian living and fiction, Kirkdale Press builds on Logos' 20 years of leadership in electronic Christian resources. Kirkdale ebooks are available through Vyrso, the Christian ereader app from Logos, as well as through Kindle, Nook and other ereaders.
Logos is the leading provider of multilingual tools and resources for Bible study on Macs, PCs and mobile devices. Logos has served pastors, scholars and everyone who wants to study the Bible since 1992, partnering with 150 publishers to offer more than 29,000 Christian ebooks to users in 210 countries.
Contact Logos Media Relations at 800-875-6467 or media@logos.com, or visit www.logos.com/press