Logos contributes to Adobe's open source type family
NEWS RELEASE
Source Sans Pro gets boost from Logos Bible Software's design team
BELLINGHAM, Wash., November 2, 2012 — When Adobe launched Source Sans Pro in August 2012, it invited the design community to build on the new font. Adobe's Paul D. Hunt designed the typeface with user interfaces in mind, seeking to meet the need for a legible font that works well in onscreen labels but remains easy to read in longer passages. Logos Bible Software's design team, one of the first to wholeheartedly adopt the Source Sans Pro family, made some key contributions to the dynamic font.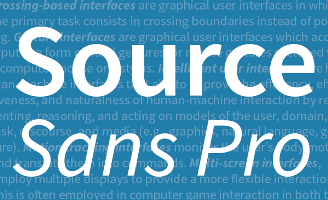 "Our digital library platform is used by more than a million users around the world to read thousands of books in modern and ancient languages," said Logos President/CEO Bob Pritchett. "Source Sans Pro is a beautiful and uniquely useful type family with multiple weights, a rich set of glyphs, strong OpenType feature support, and, most importantly, an open source license that allows us to extend it for specific needs, like scholarly text-critical apparatuses and ancient scripts."
Logos chose Source Sans Pro for the UI of Logos Bible Software 5 — its next-generation digital library for Windows and Mac—and then worked with Adobe to extend and enhance the font.
"Logos' contribution enabled us to add small capitals to Source Sans ahead of schedule," said Hunt. "We are grateful to Logos for helping to make enhancements to the type family that can benefit everyone."
Logos consulted on, and helped fund, John Hudson's standard-setting SBL Hebrew and SBL Greek, free fonts with comprehensive OpenType support for pointed Hebrew and polytonic Greek. The Bible software company looks forward to working with Adobe to improve support for these scripts using Source Sans Pro.
"It is exciting to see the project embraced by so many people," Hunt adds. "We look forward to collaborating more with Logos in the future to continue to develop this family into a more widely useful design tool."
To learn more about Logos 5 and the tens of thousands of books it accesses, click here
Logos Bible Software is the leading provider of multilingual tools and resources for Bible study on Macs, PCs and mobile devices. Logos has served pastors, scholars and everyone who wants to study the Bible since 1992, partnering with 150 publishers to offer more than 30,000 Christian ebooks to users in 210 countries.
Contact Logos Media Relations at 800-875-6467 or media@logos.com, or visit www.logos.com/press