2.5 million free study Bibles: Logos getting America
into the Word
NEWS RELEASE
Biggest, most advanced study Bible on the planet, all-digital Faithlife Study Bible, fits in pocket
BELLINGHAM, Wash., January 10, 2013 — To start the new year, Logos Bible Software is giving away 2.5 million Faithlife Study Bibles, which let readers not only study Scripture, but interact with it and share it through the online Faithlife community. With easy-to-use study notes, maps and rich media, and more than 2.2 million words including notes, articles and Bible text, the FSB is the world's largest, most advanced study Bible. The free FSB app connects to the Logos ecosystem, giving access to Logos 6's powerful Bible-study tools and more than 32,000 Christian ebooks.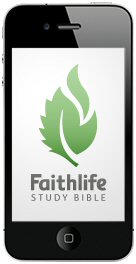 "The Faithlife Study Bible is a remarkable resource that allows you to probe deeply, yet move quickly," says FSB contributor Randy Alcorn, an author and the director of Eternal Perspective Ministries. "You can glide effortlessly from passage to passage with insightful commentary and cross-references without leaving the Scripture you're studying. Read through the Bible in a year, and dig in wherever you want with the Faithlife Study Bible. Incredible!"
The FSB connects readers to their communities with the "Read the Bible in a Year" plan. It comes with the remarkably transparent Lexham English Bible translation, plus 1.4 million words' worth of articles and study notes. The free download also includes the 1.6-million-word, 2,800-article Lexham Bible Dictionary; approximately 400 photos, videos and infographics in rich media; and three layers of study notes. The FSB features shared reading plans, notes and documents, smart searches, highlighting and the option to choose from major Bible translations, such as the NIV 2011, NKJV, KJV, ESV, NRSV and NASB95.
Along with Alcorn, authors Lee Strobel, Charles Stanley, Timothy Keller and N.T. Wright contributed to the FSB. Readers can access the FSB anywhere from iPhones, iPads, Android mobile devices, Kindle Fires, Macs, PCs, Logos Bible Software, Vyrso Christian eBooks, Proclaim church presentation software and Bible.Faithlife.com.
For more information about the Faithlife Study Bible giveaway, watch this video and click here
The Faithlife Study Bible is a digital study Bible that allows readers to delve through layers of ever-expanding notes, rich media, the Lexham Bible Dictionary and more. The FSB's shared Community Notes and reading plans make it ideal for group Bible study, and it works with popular English Bible translations. The FSB can be read on iPad, iPhone and Android devices through Logos, Vyrso and Faithlife apps, as well as online at Biblia.com.
Logos Bible Software is the leading provider of multilingual tools and resources for Bible study on Macs, PCs and mobile devices. Logos has served pastors, scholars and everyone who wants to study the Bible since 1992, partnering with 150 publishers to offer more than 32,000 Christian ebooks to users in 210 countries.
Contact Logos Media Relations at 800-875-6467 or media@logos.com, or visit www.logos.com/press