Faithlife Tours launches with free Holy Land tour for two
NEWS RELEASE
Logos Bible Software division redefines Bible study: offers chance to see biblical sites, study the Word using cutting-edge tools
BELLINGHAM, Wash., January 9, 2013 — Faithlife Tours, a division of Logos Bible Software — the world leader in Bible-study resources — is rolling out regularly scheduled tours of Israel and giving away a free guided tour of the Holy Land for two. The nine-day Bible-centered "Encountering the Footsteps of Jesus" tour will take visitors to the mountain where Jesus preached, the pool where he healed the sick, the site of his crucifixion and the tomb where he was buried. Those who have already booked a tour can enter to win a complete refund, along with a Nexus 7 preloaded with the all-digital Faithlife Study Bible — the largest, most advanced study Bible on the planet. All Faithlife Tours include the free Faithlife Study Bible mobile app, which gives travelers detailed information on each of the dozens of biblical sites visited.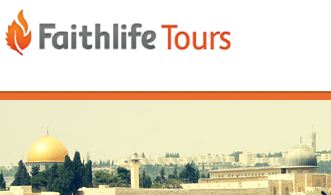 "After bringing the Bible to people for 20 years, now we're bringing people to the land of the Bible," says Logos President/CEO Bob Pritchett. "With our free mobile Faithlife Study Bible on their phones, travelers can literally follow Scripture and share notes while retracing the footsteps of Jesus."
Faithlife Tours treats the Holy Land as the ultimate visual aid for students of the Bible, who will reimagine Scripture's miracles, battles and celebrations as they explore the sites Jesus and his apostles visited. During the "Encountering the Footsteps of Jesus" tour, travelers will visit dozens of biblical sites, including Bethlehem's Church of the Nativity, Nazareth, Mt. Carmel, the Sea of Galilee, Jerusalem's Palm Sunday Road, the Garden of Gethsemane, the Dead Sea, the Wailing Wall, the cave where David hid from Saul, and many more Old and New Testament sites.
Contestants can enter to win before 8:00 a.m. PST on February 22. All travelers will receive Logos' cutting-edge Faithlife Tour Manual, which instantly brings up information about the itinerary's sites and their biblical significance. The first of this year's scheduled tours begins May 6.
Click here for more information about Faithlife Tours; click here to book a tour; click here to enter the giveaway
Faithlife Tours offers guided tours of Israel's most important biblical sites. Advanced technology and ancient history unite, bringing the Bible to life: travelers use advanced mobile apps to study biblical stories as they visit the sites where they took place. Faithlife Tours handles all tour logistics, freeing travelers to focus on the Bible and Holy Lands.
Logos Bible Software is the leading provider of multilingual tools and resources for Bible study on Macs, PCs and mobile devices. Logos has served pastors, scholars and everyone who wants to study the Bible since 1992, partnering with 150 publishers to offer more than 32,000 Christian ebooks to users in 210 countries.
Contact Logos Media Relations at 800-875-6467 or media@logos.com, or visit www.logos.com/press