Digital Tools for a Vibrant Spiritual Life
Arm yourself with God's Word through a Pentecostal & Charismatic library from Logos.
Shop libraries
A Library for Powerful Ministry
---
Empower your life and ministry with this curated collection from Logos. With inspiring works from John Bevere, Bill Johnson, and more, you can explore the biblical and theological foundations for a vibrant life in the Spirit—and help others do the same.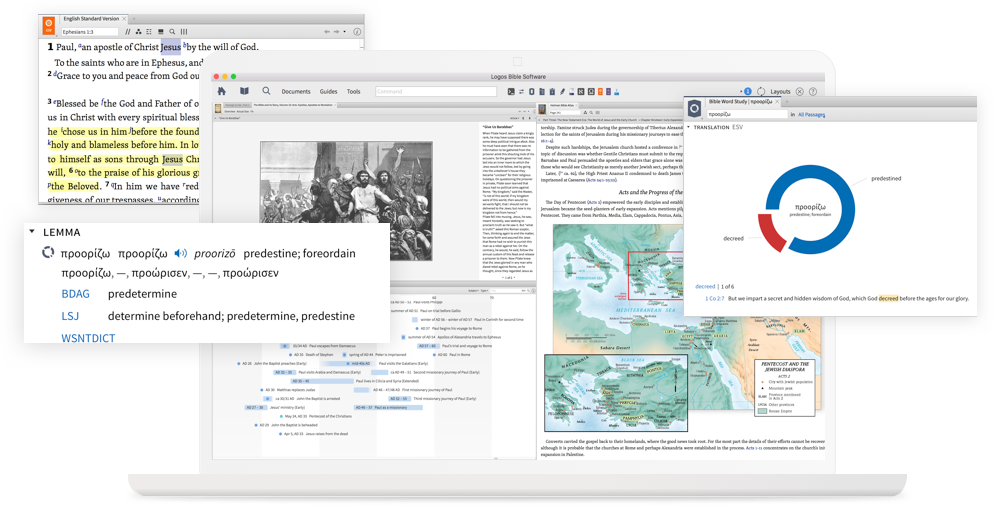 How Do Logos Libraries Work?
In Logos, you don't just get a digital library: you get a personal research assistant to go with it. Every resource is interconnected, so when you perform a search or use Logos' built-in guides, relevant insights appear in seconds. Welcome to quick, thorough study.
Save with Bundled Pricing
Base packages give you the most for your money. Each resource is a fraction of the cost it would be if purchased individually, so you can get a robust library instantly at cost you can be confident in.
"Logos is the most comprehensive and interactive tool for studying God's Word at a deeper level."
John Bevere
Pastor and best selling author
Get a Logos Pentecostal & Charismatic Base Package Today
---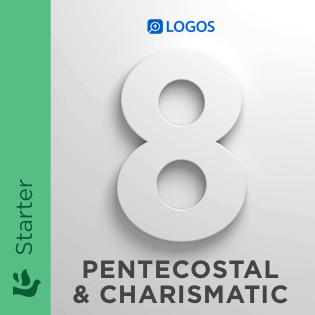 Logos 8 Pentecostal & Charismatic Starter
Great for devotional study
Starter is the perfect base package to get your study off the ground. Gain access to a well-rounded library with a variety of Bible translations, commentaries, devotionals, and Bible surveys. Explore theology and Scripture with new tools, like the Courses Tool, Multiview Resources, and a set of new Interactive Media--including the Names of God Interactive.
Regular Price: $294.99
Save 25%
Your Price: $221.24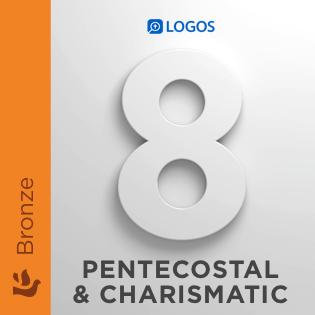 Logos 8 Pentecostal & Charismatic Bronze
Get beyond the basics of Bible study
Includes all resources and features in Starter
Bronze includes all of the tools developed for Logos 8. Find the most often repeated words in the Bible or any other book, explore first-century burial practices, uncover cultural concepts in the Bible, study Scripture in context, see thousands of images of the Holy Land, and get instant information on biblical topics with Factbook.
Regular Price: $629.99
Save 25%
Your Price: $472.49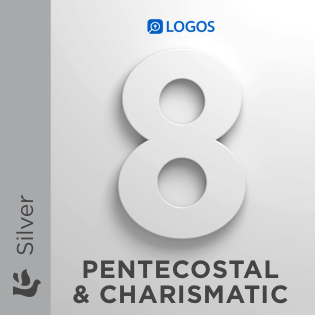 Logos 8 Pentecostal & Charismatic Silver
Start your journey toward advanced Bible study
Includes all resources and features in Starter and Bronze
Find out when your favorite theologian and your favorite historical document mentions the passage of Scripture you are studying. Study Scripture and ancient texts side by side with the Ancient Literature tool, and explore biblical meaning with the expanded Propositional Flow Outline, now including both the Old and New Testaments.
Regular Price: $999.99
Save 25%
Your Price: $749.99
Logos 8 Pentecostal & Charismatic Gold
Be prepared with essential ministry tools
Includes all resources and features in Starter through Silver
Explore the New Testament's use of the Old Testament, quickly locate where your favorite books address a word you are studying, and compare ancient manuscripts with Textual Variants. Gain access to many of the most respected resources ever published. Dig deep into the Bible's original languages and illuminate the biblical world with a rich array of resources.
Regular Price: $1,549.99
Save 25%
Your Price: $1,162.49
"I am often asked what Bible software I would recommend for anyone serious about Bible study. My enthusiastic response to scholars and laypersons is the same: 'There is nothing better than Logos!"
Bishop Joseph L. Garlington
Senior Pastor of Covenant Church of Pittsburgh
FAQ
---
I already have a base package. Does this replace my current library?
No, it adds to it. You'll never lose resources when you add a base package to what you already own. In fact, dynamic pricing ensures that you'll never pay for the same resource or feature twice.
What's the difference between a Pentecostal & Charismatic base package and a Standard one?
The libraries are very similar in terms of types of resources—commentaries, dictionaries, etc.—but the resources in this library either come from an explicitly Pentecostal & Charismatic perspective or are considered of interest to Christians of that theological persuasion.
Is there overlap between Standard and Pentecostal & Charismatic base packages?
There is about a 20% overlap. Compare the two base packages for a more detailed look. (To select new levels or packages to compare, click the Select now button under the heading "Choose packages to compare.")
How do I know what resources are included in each level (Bronze, Silver, Gold, etc.)?
You can compare all base packages to get an in-depth breakdown of the resources and features in each package. All packages are cumulative, so anything in Bronze is in Silver, anything in Silver is in Gold, and so on.
What if I just want certain parts of the Pentecostal & Charismatic library? Is there a smaller package I can get?
Though not technically library packages, you can purchase smaller collections on their own. For example
However, you pay more for these bundles when you buy them individually than you get them in a base package. That's the big advantage of a base package: it's a bulk purchase that makes every item more affordable than it would be on its own. Call
888-875-9491
for help deciding what purchase is right for you.
If I add a lower-level base package, do I downgrade to that level? For example, if I have Logos 8 Gold and purchase Pentecostal & Charismatic Bronze, have I downgraded?
No. All your Logos purchases are cumulative. For example, if you purchased a Standard Diamond base package, you will always have the features, resources, and datasets that came with it. If you were to add a Pentecostal/Charismatic Bronze package, you'd only be purchasing any resources, features, and datasets in it that you don't already own. You would have Standard Diamond and Pentecostal & Charismatic Bronze, not one or the other.
Shop Pentecostal & Charismatic Base Packages