SEPTEMBER'S MONTHLY SALE
Your September Savings Have Arrived

Featured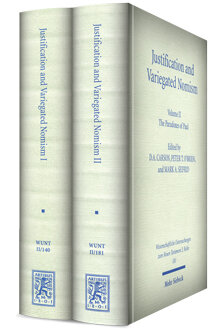 Justification and Variegated Nomism (2 vols.)
In the time since the publication of E. P. Sanders' seminal work Paul and Palestinian Judaism, numerous publications, reviews, monographs, and analyses of this "New Perspective on Paul" have emerged, exploring covenantal nomism—but, in the estimation of the editors of these two volumes, little new ground has been tread. Editors D. A. Carson, Mark Seifrid, and Peter O'Brien bring together over a dozen experts in these thick volumes to provide a fresh, new look at Paul with special awareness of the literature of Second Temple Judaism. Some of the specific areas treated include literary genre, Josephus, Philo, the Targumim, Rabbinic literature, the Pharisees, and the usage of 'righteousness language' in Early Judaism. Comprehensive and deep, the essays in these volumes make a strong case for a reconsideration of the "New Perspective on Paul" and a rare treatment of the ancient literature that influenced this early apostle.
$59.99
Save 30%
Your Price: $41.99
Courses
Save up to 42% on courses.
Audio
Save up to 45% on audio content.
Biblical Studies
Save up to 40% on biblical studies resources.
History
Save up to 50% on history resources.
Practical Theology
Save up to 30% on practical theology resources.
Theology
Save up to 30% on theology resources.
TOPIC OF THE MONTH
---
Justification
Coming Soon & Recent Releases