Sermon Editor
Preparing a sermon is hard work and typically requires the use of several tools—including study resources, a word processor, and presentation software. With the brand new Sermon Editor in Logos 7, you can produce and deliver a biblical message without ever leaving your research platform. Dive deep into the Word, take detailed notes, build an outline, and create beautiful slides automatically with the Sermon Editor.
Get started with this feature in Logos 7 Bronze and above.
This feature works best in Logos 7 Platinum and above.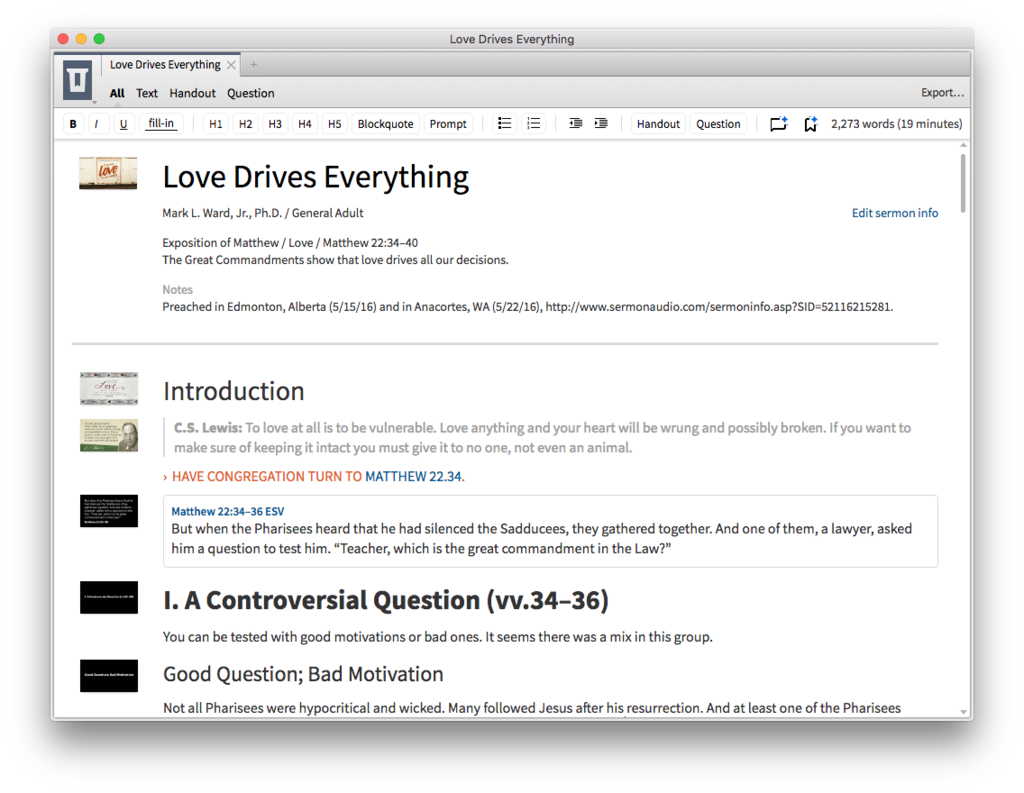 Everything for sermon prep, all in one place.
No more switching from your word processor to your presentation slides to your handout; even adding your sermon text to your website is now automatic. The tools to study for, write, and share your sermon are now all in Logos.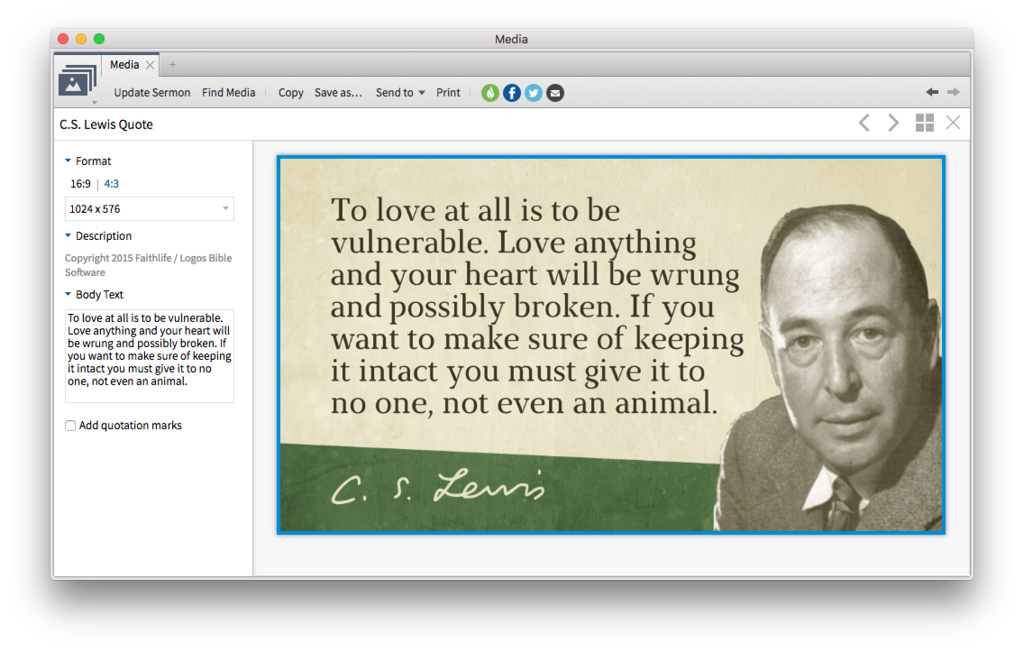 Create visuals automatically.
Many congregations today expect a PowerPoint to go along with sermons; main points and quotations, at least, help audiences follow along. But Sermon Editor automatically generates slides when you type outline headings, turn small amounts of text into blockquotes, or simply wish to turn text into a visual.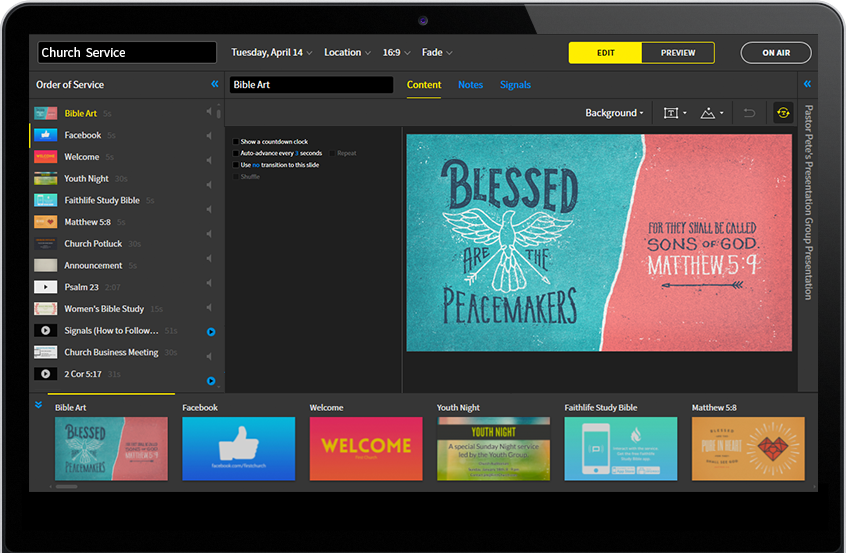 Share your visuals with your team in the cloud.
Publish your visuals to Proclaim Church Presentation Software, and your team can add them to the full slideshow for the service. They can also edit them further, without having to add any text themselves. Try Proclaim free for 30 days.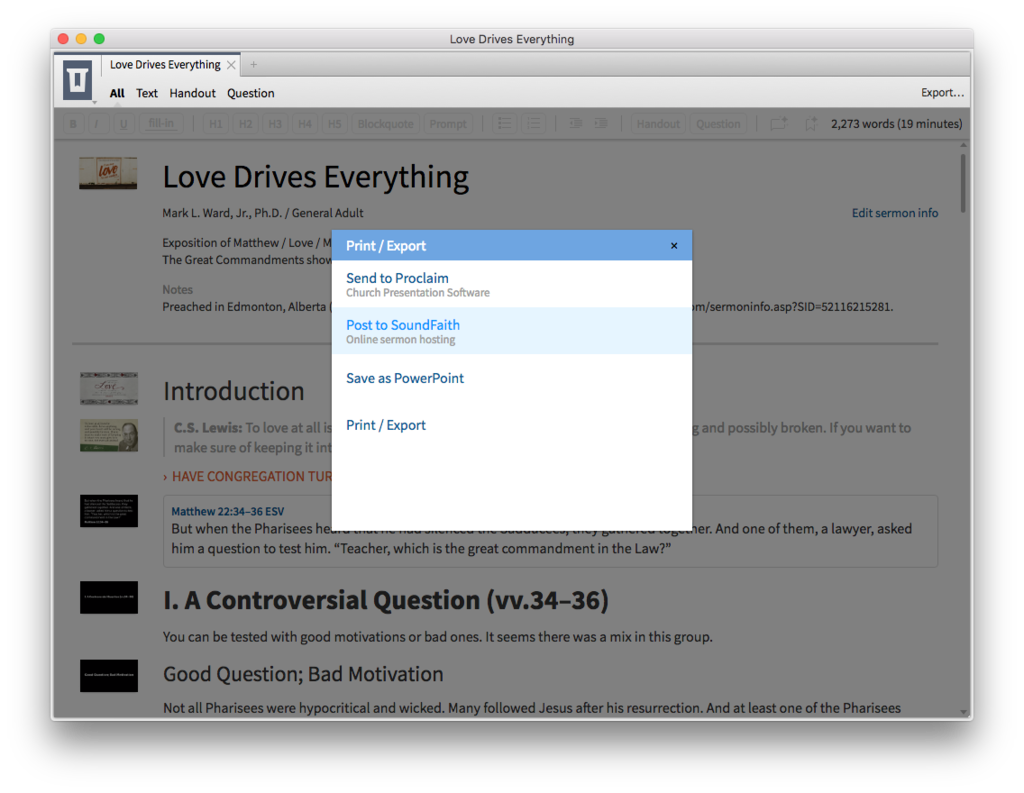 Share your manuscript with your church online.
Because Logos 7 integrates with the Faithlife platform, you can quickly share quotes and verses, distribute sermon discussion questions, and even publish your sermon to your congregation using Faithlife Groups and Faithlife Sermons.
Sermon Editor Tutorial Videos
Introduction
Starting a new sermon
Adding and editing slides
Creating Handouts and Questions
Exporting to Proclaim and other formats