Today's post is from Morris Proctor, certified and authorized trainer for Logos Bible Software. Morris, who has trained thousands of Logos users at his two-day Camp Logos seminars, provides many training materials.
A Logos user recently emailed me stating he was studying Ephesians 2:4 and came across the phrase "but God." He inquired about finding similarities to that phrase even though it may not be that exact English phrase, "but God."
There are several ways to go about this, but here is fairly simple method that yields some good results:
Open a Bible containing the reverse interlinear option such as The Lexham English Bible (LEB) (A)
Navigate to a verse containing the desired phrase such as Ephesians 2:4 with the phrase but God (B)

Right click on the word but (C)
Select Search this resource (E)
Notice the Search panel opens with the results (F)
Type this text after the search query that is the Find box: BEFORE 2 words (G)
Notice the search query now reads < Lemma = lbs/el/δέ > BEFORE 2 words (H)

Right click on the word God (I)
Select the second entry for the lemma which is Lemma θεÏŒς (J)
Select Search this resource (K)
Notice a second search panel opens with this text in the Find box: < Lemma = lbs/el/θεÏŒς > (L)

Copy / Paste the above query into the first search panel following the words BEFORE 2 words (M)
Notice the complete query now reads: < Lemma = lbs/el/δέ > BEFORE 2 words < Lemma = lbs/el/θεÏŒς > (N)
Press the Enter key to generate the results
You just located all the places in the LEB that the Greek conjunction de appears 1 or 2 words before the Greek noun theos!
Look carefully and you'll see all of the results are not the English phrase but God. (O)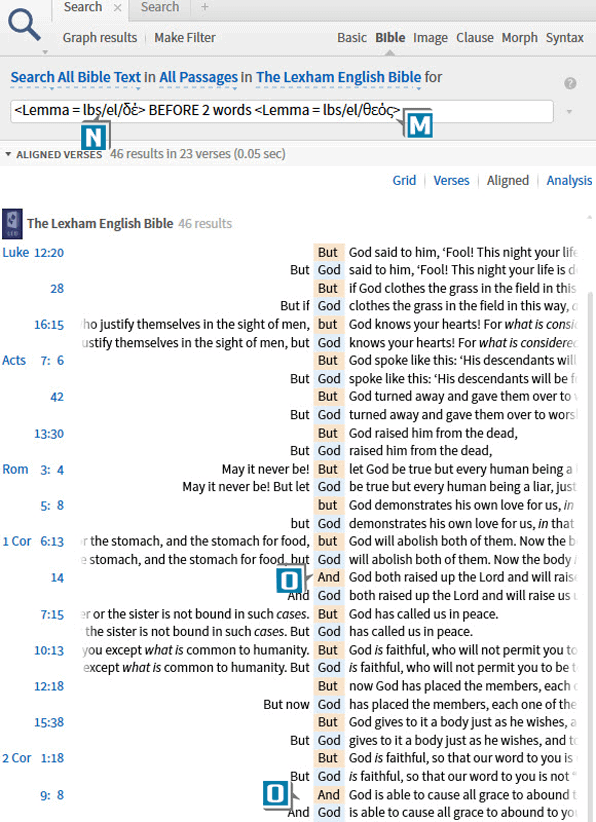 You'll find many more searching instructions in the 2-volume set of Logos 5 Training Manuals.
Was This Article Helpful?