The Bible is meant to be read, and the Bible is also meant to be studied. But a good study Bible isn't always a good reading Bible.
A good study Bible includes footnotes, section headings, cross-references, and sometimes study notes. All that markup is very useful for Bible study, but it can get in the way of Bible reading.
So a good reader's Bible is simple—containing little more than beautifully arranged, flowing text.
As Logos users know, toggling back and forth between studying and reading modes in Logos 6 is easy. With a single click, you can hide all of those helpful annotations, section headings, links, and even chapter and verse numbers.
Even more, that same feature you've been loving in your desktop software is also available in your iOS app.
Here's how to turn your Logos app into a reader's Bible: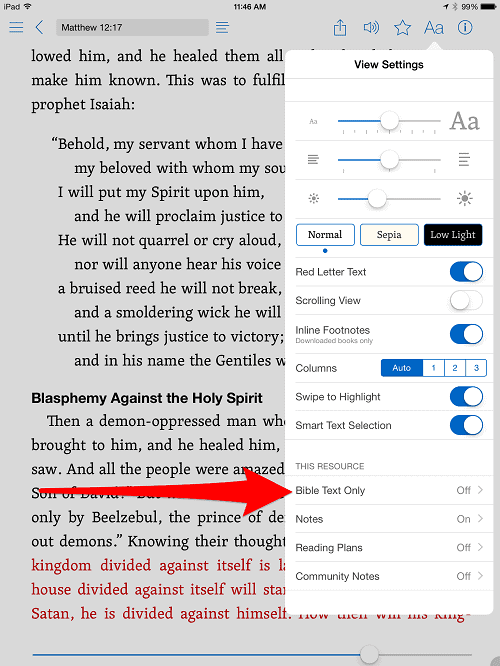 On your iPad or iPhone, tap the settings menu and look for the "Bible Text Only" section. Tap that to reveal all of your options.
You can turn on or off various annotations, like chapter and verse numbers, footnote indicators, non-Bible text (like section headings), and more. Quickly turn these things on or off to make your app conducive to study or reading—whichever you're doing at that moment.
Enjoy the Bible Text Only view in your iOS app today!
Was This Article Helpful?