Today's post is from Morris Proctor, certified and authorized trainer for Logos Bible Software. Morris, who has trained thousands of Logos users at his two-day Camp Logos seminars, provides many training materials.
I often say Logos Bible Software is like a giant onion from which we can continue to peel layer after layer revealing more of the substance. Logos truly is a gift that keeps on giving.
Today, I'll explain a small feature—so small in fact you may have never noticed it. It's the italicized text appearing in the reverse interlinear pane which can be toggled on and off at the bottom of numerous Bibles.
Let's jump right in and I'll explain as we go.
Open the ESV to Matthew 1:18 (A)
Click the Interlinear icon on the Bible's toolbar to toggle on the reverse interlinear pane at the bottom of the Bible's panel (B)
Click the word child in verse 18 to move the pane to that word (C)
Notice carefully in the interlinear pane the phrase to be with child is italicized with several Greek words placed underneath (D)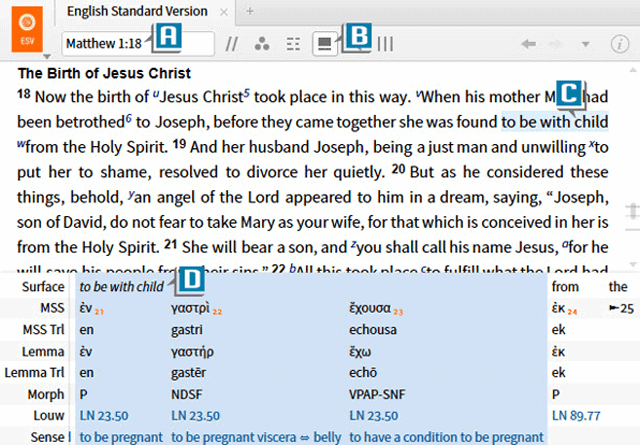 Here's what's happening.
Sometimes, in the Hebrew or Greek language, the sum total of the meanings of the individual words do not convey the meaning of the phrase as a whole. For example, in verse 18, the sum total of the meanings of the individual words is having in the stomach. Rather than give us that wooden sum total, the translators of the ESV provide the meaning of the phrase as a whole. To indicate the presence of this idiomatic expression, the editors of the reverse interlinear italicize the text in the interlinear pane.
Thus, when we see italicized text in the interlinear pane, this should be a flashing yellow light to slow down during the interpretation phase of our inductive Bible study. We can then dig into lexicons and commentaries to discover more of what's going on beneath our English translations.
Using the steps above, check out a few more examples from Matthew:
4:17 –

 

is at hand is literally come near (E)
5:25 – come to terms is literally be well disposed (F)
5:25 – going to court is literally in the way (G)
6:3 – give to the needy is literally do alms (H) 
For more information about working with the reverse interlinear please check out the Logos 6 Training Manual Volume 2.