This post is from Morris Proctor, certified and authorized trainer for Logos Bible Software. Morris, who has trained thousands of Logos users at his two-day Camp Logos seminars, provides many training materials.
The new year, a time for fresh starts, is upon us. Perhaps with renewed resolve you'd like to be even more of a reader and doer of the Word. Well here's a handy tip that makes it easier for us to access our daily devotionals which launch us into Bible reading and application.
Click the Library icon in the upper left of Logos (

A

)
Place, in the Library's Find box, this text, which displays all of your daily devotionals: type:calendar (

B

)
Click the title of your favorite devotional which opens it on the Logos desktop (

C

)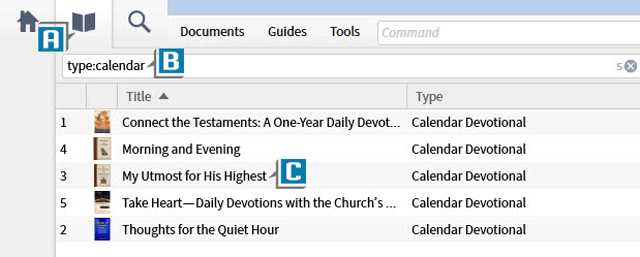 Drag the tab of the devotional's panel (

D

) to the Shortcuts bar where locates places an icon for the book (E)

Now each day click the devotional shortcut icon which opens the resource to the day's reading so you can partake of the biblical passage and application for the day!
For added power:
Click the devotional's Parallel resources icon (

F

)
Select from the list another daily devotional which replaces the one already open (

G

)
This is a very simple, but effective way to enjoy the calendar devotionals in your Library!
***
For additional Logos training consider attending a Camp Logos in 2016. Click here for our current 2016 schedule.