Today's post is from Morris Proctor, certified and authorized trainer for Logos Bible Software. Morris, who has trained thousands of Logos users at his two-day Camp Logos seminars, provides many training materials.
I remember years ago as a young Bible student reading that John, the beloved disciple, used the word love more than other New Testament writers. Back then, of course, it was difficult at best to verify that claim. I just relied on input from trusted authors. Now with Logos, however, substantiating most any biblical claim is just a few clicks a way. For example, let's apply a feature known as Graph Bible Search Results to the above statement regarding John:
Open a Bible like the NASB to a passage containing the Greek lemma agapao or agape. For this example we'll use John 13:35 (A)
Right click on the word love (B)
Select from the right side of the context menu the root word agapao, which locates the noun, verb, and adjective forms of this word (C)
Select Search this resource (D) from the left side of the context menu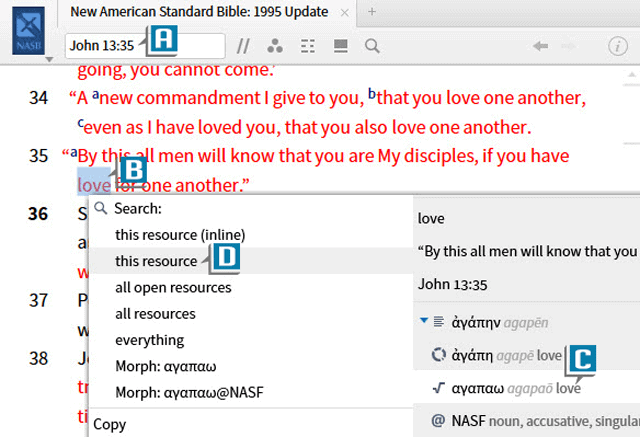 Notice a Bible Search panel opens displaying the search results (E)
Click on the Search panel Graph results (F)
Notice a Graph Bible Search Results panel opens displaying the Number of Hits in Book in graphical form (G)
Select the desired image from the options at the bottom of the panel (H)
As you look at the image, it's very easy and quick to see that John did indeed use some form of this Greek word more than any other New Testament author. Perhaps a picture really is worth a thousand words. This graphical feature may assist you in the observation phase of Bible study or in discerning themes in the books of the Bible.
***
For more detailed training, check out the Camp Logos 2 video training now on pre-pub!