I'm often asked how to easily locate Old Testament passages quoted in the New Testament. I've written about this before, but in this blog, I'll show you yet another way to read OT sources right along with NT passages.
Open any Bible
Type Old Testament Quotes in the Command box (A)
Select Open Old Testament Quotes in the New Testament from the drop-down list (B)
Arrange the two open panels so you can clearly see both
Choose the panel menu (one at a time) on each panel (C)
Select the same Link set letter on each menu such as A (D)
Click the Visual Filters icon (3 dots) on the Old Testament Quotes toolbar (E)
Check the box to the left of Emphasize active references (F)
Navigate in the Bible to Luke 4:4 (G)
Notice several things in OT Quotes:

The harmony jumps to Luke 4:4 because the panels are linked (H)
Luke 4:4 gets highlighted because it's the active reference (I)
Deuteronomy 8:3 appears because it's the OT source for Luke 4:4 (J)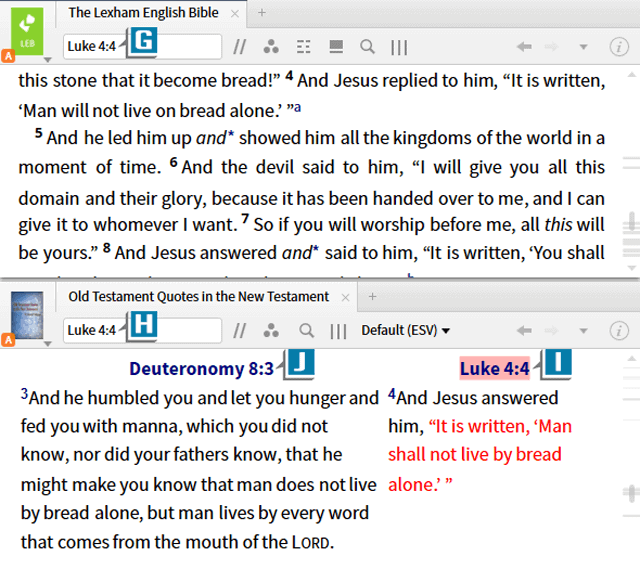 Use the down arrow on the keyboard to move through the Bible one line at a time
Notice as you get to Luke 4:8 (K) the above three observations happen again in OT Quotes 
This arrangement also makes a great Layout for at least one of your readings through a NT passage as you read it numerous times during your study!
Also in your library, you have another harmony called Old Testament Quotations and Allusions in the New Testament. Use both of these harmonies for a while and decide which one you like better for this type of reading.
For more information about harmonies, be sure to order your copy of the Logos Training Manuals Volumes 1-3 in print and digital.
Also, be sure to register for an upcoming live stream Camp Logos Inductive webinar August 13-17 and August 27-31.
And for 24/7 Logos training, check out the new MPSeminarsOnline.com website.
Remember to follow Faithlife.com/mpseminars and you'll automatically receive a FREE digital download of Dr. Grant Osborne's commentary Ephesians Verse by Verse.
***

Morris Proctor is a certified trainer for Logos Bible Software. Morris, who has trained thousands of Logos users at his two-day Camp Logos seminars, provides many training materials.