The espresso machine is back! After breaking down sometime in September (that month is nothing more than a hazy, coffeeless memory now) and spending weeks at the repair shop in Canada (don't ask why we have to take it to Canada when it breaks)…it finally came back last week and is once again caffeinating the good people of Logos.
The first couple of times the machine needed service, we crated and shipped it up to Vancouver. But customs turned out to be a hassle. So now a guy (Caleb) who works in our shipping department has been designated the bearer of the machine. He loads it in his car and drives it north of the border…and back. You might envision four men carrying it on long poles with the tribes of Logos following in procession…but it's not quite like that…yet.
But we do love our coffee. True story: when the espresso machine came back from the shop this time, the repair guys said that when they opened it up and looked at the counter (shotometer?) inside, they couldn't believe what they saw. Apparently, the machine has already produced more than 20,000 cups of coffee. The repair guys said it was the most they had ever seen on one machine.
Here's to the beautiful bean… :-)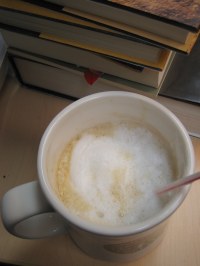 Was This Article Helpful?