Today's post is from Morris Proctor, certified and authorized trainer for Logos Bible Software. Morris, who has trained thousands of Logos users at his two-day Camp Logos seminars, provides many training materials.
Recently, while reading Marvin Vincent's Word Studies in the New Testament, I used a minor Logos feature to enhance my commentary work.
I was reading Vincent's comments on Galatians 2:20, in which he references numerous Bible verses. When I clicked a blue cross-reference, my preferred Bible jumped there.  But I really wanted his commentary to look up the references, so I could read his additional thoughts on the same subject.
So here's how to accomplish just that:
Type Word Studies in the Command box (

A

).
In the dropdown list, click Open Word Studies in the New Testament (

B

). (You can do this with any resource containing Bible cross-references.)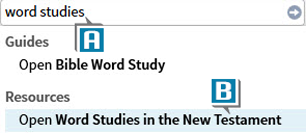 Type Galatians 2:20 in the commentary's reference box (

C

).
Press the Enter key to jump to that location.
Click the panel menu (upper-left-hand corner) on the commentary (

D

).
Select Copy this panel to a new tab to open a second copy (

E

).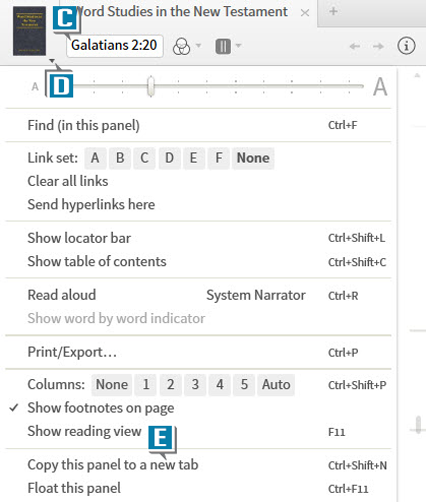 Drag the second resource's tab to a new position on the screen, so you can see both copies at the same time (

F

).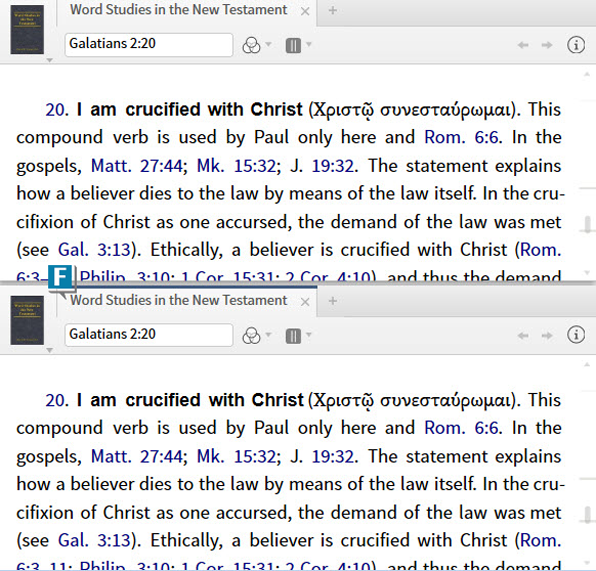 Click the panel menu (upper-left-hand corner) on the second commentary (

G

).
Select Send hyperlinks here (

H

).

Notice that Logos places a target on the panel menu of the second commentary (

I

).
Click a blue Bible cross-reference in the first commentary (

J

).
Notice that the second commentary jumps to that location, while the first stays in the original Galatians 2:20 location (

K

).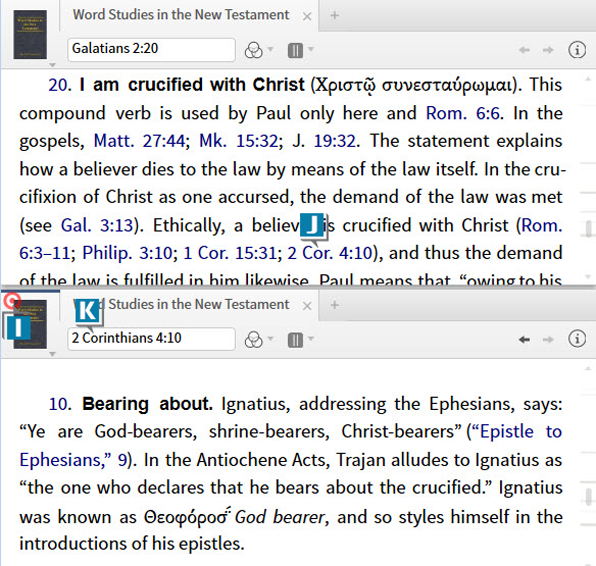 We just instructed Logos to temporarily override our preferred Bible and use the commentary to look up cross-references! This minor feature can return big dividends. Now, as we study a specific passage, we can glean insights from an author's comments on different verses but the same word or subject.