Today's post is from Morris Proctor, certified and authorized trainer for Logos Bible Software. Morris, who has trained thousands of Logos users at his two-day Camp Logos seminars, provides many training materials.
One of Logos 5's many helpful features is the ability to arrange previously created Documents and Guide Reports in a spreadsheet in which you can easily find and open just the right one.
Try this:
If you haven't already, create several documents (notes, Passage Lists, etc.), and generate various reports from the Guides menu.
To see and arrange these files in a spreadsheet:

Choose the Documents or Guides menu.
Note the spreadsheet that Logos automatically creates for you, with headers like Name

(A)

,

Type

(B)

, etc.
Click a column header to display the files according to that category. For example, click Name

(A)

to list them according to the title of the document or report.
Click the little triangle next to Name

(C)

to toggle the files from ascending to descending order.
Now try this power-user trick:
Click Type

(A)

to group together common documents or reports. For example, clicking Type places all the Note files with one another, the Passage Guide reports together, and so on.
Now hold down the Shift key.
Click:

Name (B) on the Documents spreadsheet to alphabetize the files under each type.
Reference

(C)

on the Guides spreadsheet to place reports for biblical references in canonical order and reports for words or topics in alphabetical order under each type.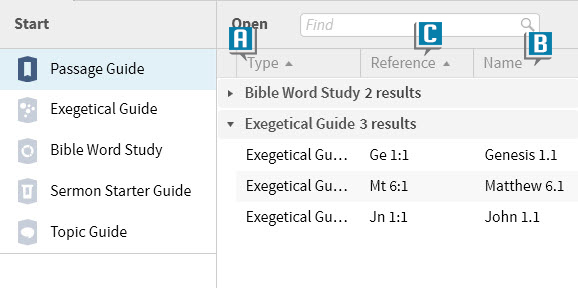 With the Shift + click you sort the grouped files!
Of course, click the name of any document or report to open it.
If you were a Logos 4 user and recently upgraded to Logos 5, check out all the new features in the What's New? Training Manual from MP Seminars.