Today's post is from Morris Proctor, certified and authorized trainer for Logos Bible Software. Morris, who has trained thousands of Logos users at his two-day Camp Logos seminars, provides many training materials.
A few days ago, a Logos user emailed me the following question:
For a sermon on April 21, I would like to find all the commands in 2 Timothy. How do I do a search in the Greek for all the imperatives in this letter?
Here's my response, with easy-to-follow instructions so you can locate those same commands:
Open the Search panel
Select Morph as the search type (

A

)
Select a Bible that contains the reverse interlinear option, like the ESV, from the dropdown list (

B

)
Select Logos Greek Morphology from the dropdown list (

C

)
Create a 2 Timothy verse range

Click the verse range dropdown list (

D

)
Type 2 Tim. in the New reference range box (

E

)
Click Save (

F

)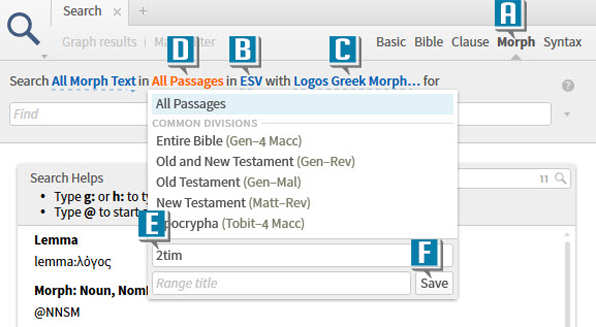 Type the @ symbol in the Find box (

G

)
Select Verb from the Part of Speech menu (

H

)
Select Imperative in the Mood column (

I

)
Click outside the menu to close it and save @V??M in the Find box
Press the Enter key to generate the search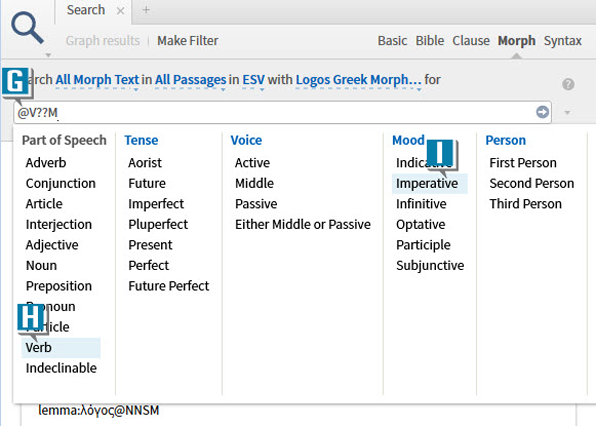 Click Aligned when the search results appear (

J

)
Notice 33 results in 25 verses (ESV) (

K

)
Click a Bible reference to jump to that location (

L

)