Today's post is from Morris Proctor, certified and authorized trainer for Logos Bible Software. Morris, who has trained thousands of Logos users at his two-day Camp Logos seminars, provides many training materials.
The Bible Sense Lexicon dataset (available in the Gold base package and higher) helps you disambiguate Hebrew and Greek words. For example, the Greek kosmos, usually translated world, has multiple senses; what does it mean in John 3:16? That's where the Bible Sense Lexicon comes in—it connects the text to specific, contextual meanings.
At Camp Logos, I was recently asked how to find all possible meanings of a Hebrew or Greek word and all the places where those meanings appear in Scripture. Here's a way to achieve those ends. (Stay with me—there are several steps.)
To see the specific sense of a word:
Open your favorite Bible (we'll use the LEB) to the passage you're interested in. Let's use Luk

e 1

3:32, where Jesus says "I will complete my work" (

A

).

Right-click the word complete (

B

).
Notice, in the context menu, that the BSL assigns the sense "to finish" to the underlying Greek word (

C

)
To see all possible senses of a word
and
the verses in which they occur:
Right-click the word (

D

).
Select Lemma [the Greek word] in the context menu (

E

).
Select Search this resource (

F

).
Click Analysis to view all occurrences of the Greek lemma in a spreadsheet (

G

).
Right-click any column header in the spreadsheet (

H

).
Make sure that at least Reference and Sense are checked (

I

).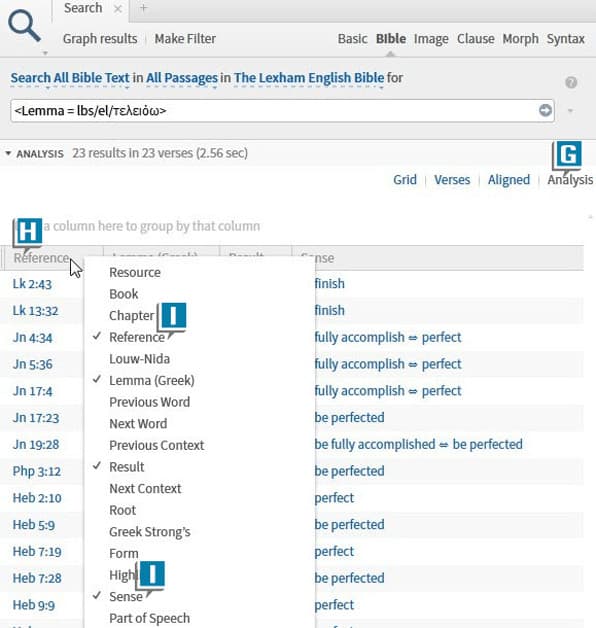 Drag the column header Sense to the area above the column headers. (Mac users: hold down the Option key as you drag the header.) (

J

)
Right-click an arrow to the left of a sense (

K

).
Select Collapse all (

L

).
Notice that all the occurrences of the Greek lemma are grouped according to the senses of the word (

M

).
Then display all the biblical appearances of a meaning by clicking the arrow to its left (

N

)
Again, just for emphasis: in this Analysis view, you're looking at all possible senses (meanings) of the Greek lemma teleioo and all the places where each sense appears in the Bible!
* * *
Take your Bible word studies beyond just words—Logos 5's language tools help you cut straight to a word's meaning. Take advantage of your custom upgrade discount today!
Was This Article Helpful?