Today's post is from Morris Proctor, certified and authorized trainer for Logos Bible Software. Morris, who has trained thousands of Logos users at his two-day Camp Logos seminars, provides many training materials.
Scattered throughout many Logos resources are dates of specific historical events. Logos is in the process of hyperlinking many of these dates to the new, searchable Timeline, found in most of the new base packages.
Here's an example of how the links work:
Type 131 in the Command box.
In the drop down list, click Open 131 Christians Everyone Should Know to open this resource.
Type 35 in the resource's reference box.

(A)

Press the Enter key to jump to that page.
Click the Visual Filters icon

(B)

on the resource's toolbar.
Select Timeline events.
In the book scroll to page 35, subsection "Here I stand."

(C)

Notice, in the first sentence, a blue flag

(D)

next to the year 1517.
Rest the cursor on the flag to see a popup description of the event.

(E)

Click the blue flag

(D)

to open the Timeline to that specific event.
Notice, back on page 35, a white flag next to the year 1519.

(F)

Click the white flag to jump to the year 1519 on the Timeline.
The blue flags in resources represent specific events on the Timeline, whereas white flags just represent dates on the Timeline with no specific events assigned to them.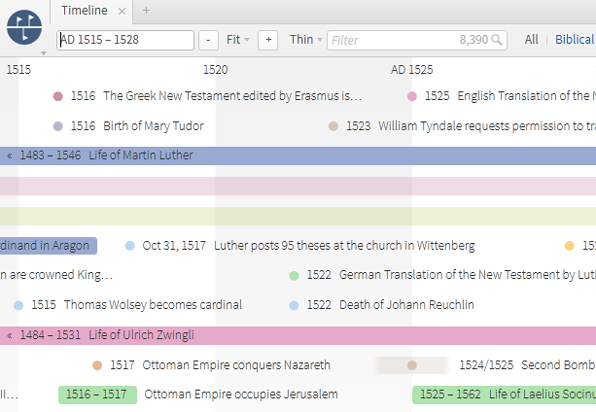 Of course, you can open the Timeline anytime you want from the Tools menu.