Today's post is from Morris Proctor, certified and authorized trainer for Logos Bible Software. Morris, who has trained thousands of Logos users at his two-day Camp Logos seminars, provides many training materials.
With the recent release of Logos 5.2 comes a new feature that provides, in essence, an "instant concordance" for any Bible or other book in your library! Try this:
Click the Library icon.
Right-click the title of any resource (

A

).
Select Search this resource (

B

).
Notice that the search panel opens with the appropriate search type (Basic or Bible) already selected (

C

), as well as the resource set to be searched (

D

).
Type your desired query in the Find box, such as redemption or "love of God" (

E

).
Press the Enter key to generate the search results (

F

).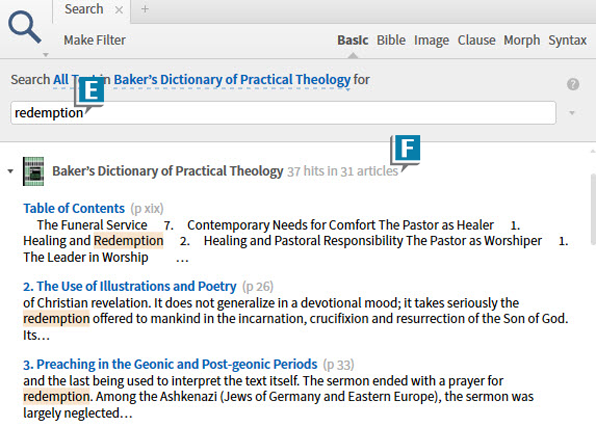 When you just want to search one specific resource, this trick provides instant access!
Please note: if this feature isn't available to you, type update now in the Command box and press the Enter key to launch your free update to Logos 5.2.